Television
Unprincipled at 'Abbott,' Lighting the Tree, Reviving 'Willow,' an 'Irreverent' Caper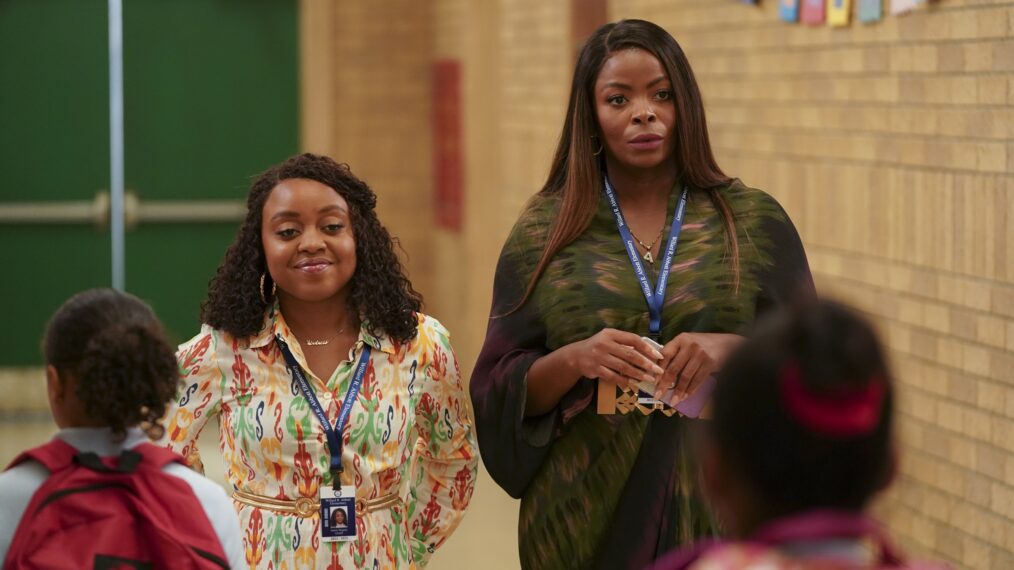 The wacky principal of Abbott Elementary becomes substitute teacher for a day. NBC marks the 90th lighting of the Rockefeller Center Christmas tree with an all-star celebration. Disney+ presents a sequel to the 1988 fantasy Willow. A Chicago criminal on the lam becomes a man of the cloth Down Under in an Irreverent dramedy.
Abbott Elementary
It's a recipe for chaos when Janine (Quinta Brunson) calls in sick, and because of a shortage of substitute teachers they have no choice but to enlist Ava (Janelle James), the outrageously inappropriate principal, to fill in. Will this second-grade classroom, and the rest of the school, ever recover? On the plus side, with chatterbox Janine sidelined, fellow teachers Barbara (Sheryl Lee Ralph) and Melissa (Lisa Ann Walter) enjoy some peace and quiet in the lounge.
Christmas in Rockefeller Center
First televised in 1951, the Christmas tree lighting in New York's Rockefeller Center celebrates its 90th anniversary with an starry musical event featuring performances by The Voice lovebirds Blake Shelton and Gwen Stefani (with their duet "You Make It Feel Like Christmas"), the Muppets of Sesame Street, Alicia Keys, Andrea Bocelli, Brett Eldredge, Jimmie Allen, Dan + Shay, Mickey Guyton, The Shindellas, David Foster and Katharine McPhee—and those show-stopping Radio City Rockettes, along with some comedy from Amy Poehler and Maya Rudolph. Today's Savannah Guthrie, Hoda Kotb and Craig Melvin host alongside Access Hollywood's Mario Lopez. Followed by a rebroadcast of Kelly Clarkson Presents: When Christmas Comes Around (10/9c).
Willow
Time flies, but Intellectual Property is apparently timeless. Case in point: a series sequel to Ron Howard's 1988 fantasy, once again starring Warwick Davis as the would-be sorcerer hero. Joanne Whalley also returns as Queen Sorsha, who enlists Willow to join a team to rescue Sorsha's son Prince Airk (Dempsey Bryk) and bring peace to the rural world of Andowyne. Premieres with the first two episodes.
Irreverent
Colin Donnell, the appealing former star of Chicago Med, trades scrubs for an ill-fitting clergyman's collar in a quirky dramedy that feels like a cross of Ozark and a Down Under Northern Exposure. (The 10-episode first season is available for binge-watching.) Donnell is Paolo, a fixer for the Chicago mob who flees the Windy City after a deal goes murderously South and heads to the other side of the world. Circumstances strand him in an oddball beach community called Clump in the far north of Australia's Queensland, where he's forced to take refuge in the guise of the Reverend Mackenzie "Mack" Boyd. Heaven help the locals, and say a prayer for Mack if the mob's enforcers ever blow his cover.
Inside Wednesday TV:
The Conners (8/7c): Leave it to Darlene (Sara Gilbert) to set the house rules when she, Ben (Jay R. Ferguson), Becky (Lecy Goranson) and little Beverly Rose move into their new home.
The Masked Singer (8/7c, Fox): A two-hour season finale features highlights from Season 8 and the awarding of the Golden Mask Trophy to either Harp or Lambs.
Hip Hop Family Christmas Wedding (8/7c, VH1): R&B stars Keri Hilson and Ne-Yo play a couple planning a holiday wedding, if their battling moms (MC Lyte and Valarie Pettiford) don't destroy each other first.
The Amazing Race (9/8c, CBS): The itinerary for the final four teams: a 2,000-mile flight from Spain to Iceland, where they'll race to see who makes it into the finale.
Love Without Borders (9/8c, Bravo): Will it be love at first sight, or will passion get lost in translation? A new reality series jets five lovelorn Americans to surprise destinations overseas, where they're met by potential soulmates.
Money Court (10/9c, CNBC): Shark Tank's Kevin O'Leary and Real Housewife-turned-entrepreneur Bethenny Frankel return for a second season of settling business disputes. One of their first cases is especially timely, as business partners squabble over their staff working remotely or in the office.
Sherman's Showcase (10:30/9:30c, IFC): The season finale of the Soul Train spoof takes us back to the 1990s, when Sherman (Bashir Salahuddin) rebranded his show as "The Shrind"—not to be confused with MTV's The Grind, but even so, is that cause for murder?
Snack vs. Chef (streaming on Netflix): Hacks' hilarious Megan Stalter co-hosts with Hari Kondabolu (The Problem with Apu) in a cooking competition where chefs are challenged to recreate famous snack foods and come up with their own taste treats.