Television
Outlander Season 7 Episode 2 Review: The Happiest Place on Earth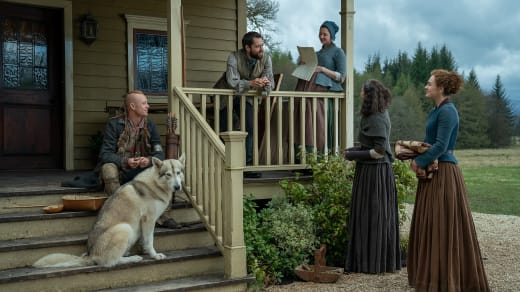 Tom Christie gave his life for Claire's, but that doesn't mean it's all roses from here on out.

Outlander Season 7 Episode 2 brought children to the forefront, and not all stories have such similarly happy endings.

And not all have the gift of time travel to ensure safe outcomes, even in the most dire circumstances.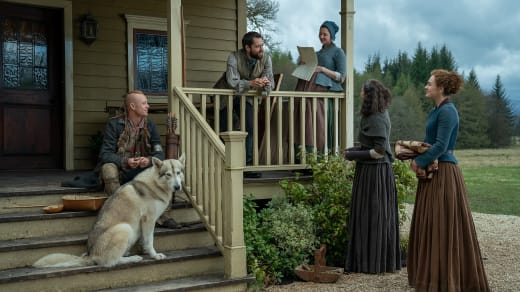 Claire is home, and she has to reconcile another chance to live with her beloved Jamie, with Tom confessing to a murder he did not commit.
What do we learn from the dead, if not the lessons of life? What had Tom Christie taught me since he surely was gone by now? His sacrifice reminded me that we should make an effort to truly live, count our lives in thoughts, feelings, breaths, and heartbeats, not the number of days, months, or years because tomorrow is not promised.

Claire [narration]

Coming into contact with Allan so soon afterward seemed to throw her a bit. Allan was in a grave emotional state, and his confession to Malva's murder and many other crimes against her tumbled out of his mouth.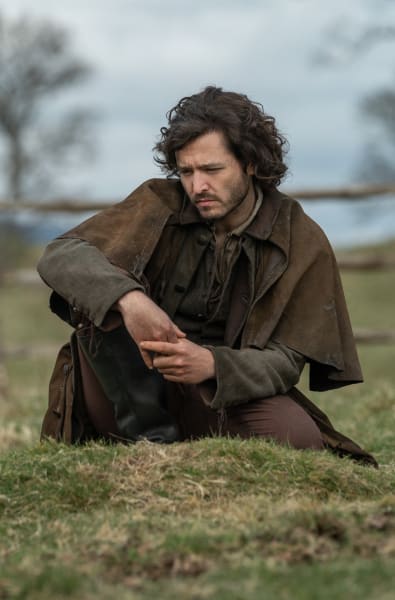 Knowing what Tom sacrificed, Claire saw humanity through Allan's depravity. She stopped him from killing himself before her, suggesting he go far away and never return.

Young Ian, who had feelings for Malta before everything turned sour, took that choice away from them both.

Ian's luck in love has been abysmal, and although Malva put his family through hell during Outlander Season 6, he righted a terrible wrong by ending Allan's life so he couldn't put another soul through what he did his sister.

If Claire had any lingering thoughts about what the people on Fraser's Ridge thought of her, they were erased when a woman happened upon Claire and Ian burying Allan. She recognized evil and helped them close out that unfortunate chapter in their lives.

Sacrifice takes many forms, and Jamie Fraser is hardly a stranger to it.

Even giving his son to a trusted friend to raise as his own still robbed Jamie of his son. Now, with the Revolutionary War on the horizon, he finds himself at odds with not only Lord John but William, a child he loves as deeply as Brianna but knows so little about.

He's opposed others he's known in times of war, but battling against his son would be painful no matter how much of William's life Jamie missed.

It's got to be difficult for him, knowing that if it comes to it, they could find themselves on the same battlefield, father and son, with each other's lives in their hands.

Brianna understands all too well what it's like to grow up with a man who isn't your father but to love him like he is anyway. She also knows how easy it is to accept more than one man in the role in your heart.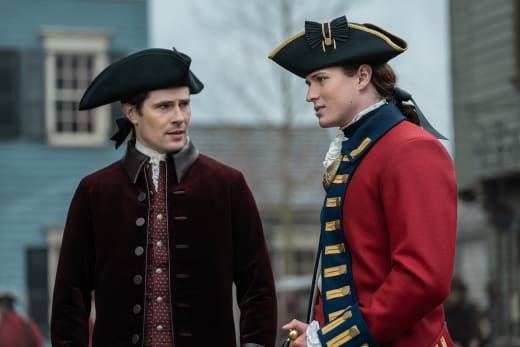 Her Outlander Season 4 journey coming to terms with her new relationships gives her authority on the matter.

But instead of spurring the conversation toward William coming to know Jamie as his father and Brianna as his sister, Jamie pushes John away for William's sake, their sake, and the impending war.

He does this knowing Brianna is soon to leave, as well, as her newborn Amanda, a child Claire and Jamie hoped to show the world they know and love, has a heart defect that only time travel can fix.
I went through the stones once to save my baby. Now you're going back to save yours.

Claire

Claire and Jamie are about to be very much alone, as Young Ian, Lizzie, and her new bairn cannot replace their daughter and her family.

It's an interesting episode for all of this to coalesce. In the books, Brianna tells Lord John about their abilities shortly before leaving through the stones for Mandy's health. Unless I blacked out and missed entirely, the conversation on "The Happiest Place on Earth" didn't go in that direction.

Instead, it was goodbye and good luck, without much information being shared between them.

Although Jamie is in a unique position to know what becomes of the country as a result of the war, he still wonders if the sacrifice will be worth the endeavor.

It will be, of course, which Brianna shares with him as they spend as much time together as possible before she departs.

The reality is that they may never see each other again. Claire and Jamie will no doubt do their best to communicate with Brianna and Roger in the future, but by the time they receive that communication, Bree's parents will have been in the ground for centuries.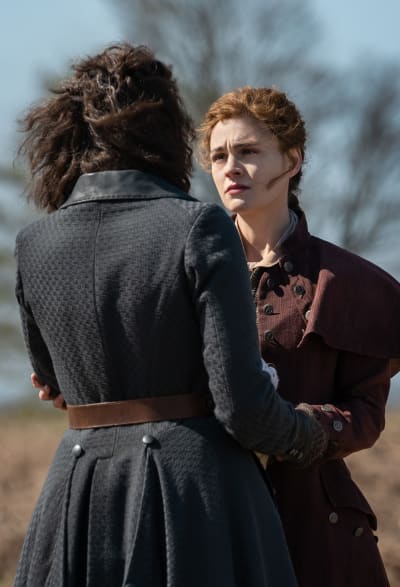 Moving away from home can be difficult, and in the 18th Century, when children moved across continents, it could have meant goodbye forever. Still, the ability was there to travel, if not always the means.

Traveling through the stones is always a gamble. Sometimes, they go through, and it's not the time they expect. In other instances, it doesn't work at all. When Jamie and Claire say goodbye to their family, the truth is they may never see them again.

Hope springs eternal, and they will probably always look over their shoulders for Brianna and her family to come over the hill grinning from ear to ear, but that hope can bring as much pain as pleasure.

When Claire said goodbye, the pain eclipsed, knowing Mandy would live with the necessary surgery. Either way, she will be gone to Claire and Jamie, and that kind of pain can't be easily assuaged.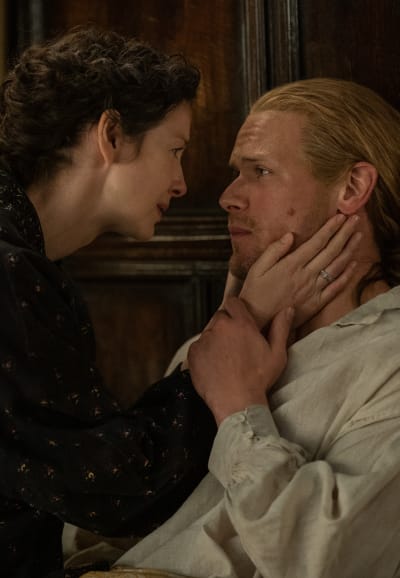 Jamie admitted he's not as brave as he once was and could not imagine enduring the pain if not for her presence. If Claire leaves him again, Jamie might not survive the loss.
For your sake, I will continue. But for my own, I would not.

Jamie [to Claire]

They say that if you have a headache, smashing your thumb with a hammer will make you forget about it. Trading one pain for another isn't ideal, but in a nasty way, it works.

For a while, Claire and Jamie found beauty in life. They remembered what their family loved so much and found solace in them.

Mandy wouldn't grow up with the foal, and Jamie wouldn't teach her to ride it, but time with it reminded him of happier times.

Instead of wallowing in what they lost, they counted their blessings. Mandy could have died. Now, she lives. They made Frasers Ridge the happiest place on earth in the 18th Century.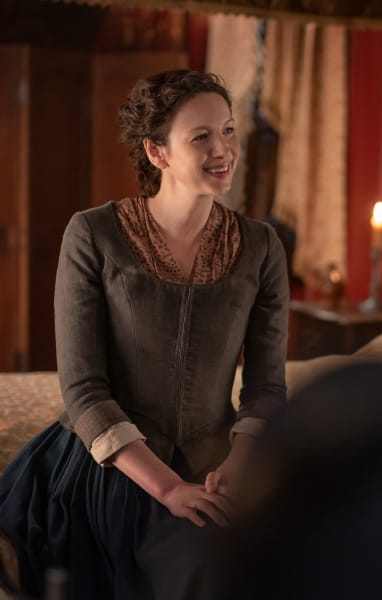 Claire and Jamie chose not to forget pain by burrowing in so deep they created more for themselves, but someone else had other plans.

Roger chose to pray for Wendigo on Outlander Season 7 Episode 1. He hoped he'd find a way to help himself. God does work in mysterious ways, but having Wendigo come to Claire to demand stones and information to get home couldn't have been divinely drawn.

Some people are beyond hope, and Wendigo is one of them. Helping himself to other's possessions set in motion a tragedy nobody saw coming.

Fraser's Ridge burned to the ground, begging the question of whether Brianna and Roger's return saved her parents or not.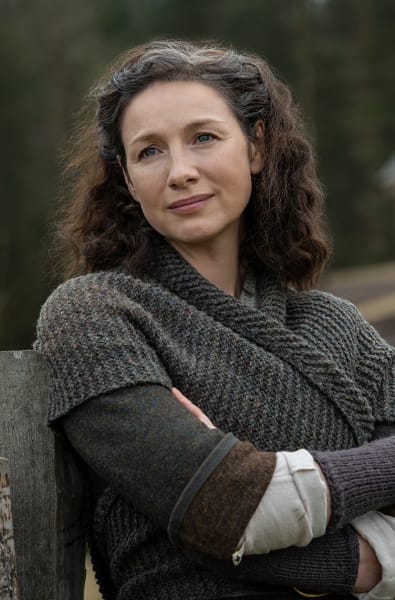 We know time and distance make any narrative suspect. Claire and Jamie will not die in this fire, but their current place in the world will set in motion an entirely new set of circumstances for them to weather together.

Outlander Season 7 is moving through the material rapidly, and we will reach the midseason finale before we know it.

Book readers, what changes have you noticed, and are they working for you?

Show fans without the written reference, what are your thoughts on the continuous sacrifices the Fraser family must make to survive? Share your thoughts in the comments below!
Carissa Pavlica is the managing editor and a staff writer and critic for TV Fanatic. She's a member of the Critic's Choice Association, enjoys mentoring writers, conversing with cats, and passionately discussing the nuances of television and film with anyone who will listen. Follow her on Twitter and email her here at TV Fanatic.