Television
Literary Mystery and Spy Thrills, 'Scrooge' and More Holiday TV, 'Young Rock's Daddy Issue, 'Blue Bloods' Conflict
Three Pines
Louise Penny's best-selling Inspector Gamache mysteries come to streaming TV in an adaptation starring an understated Alfred Molina (Spider-Man) as the unusually thoughtful Chief Inspector, who's assigned with his team to investigate a puzzling murder (the first of several) in the remote and gossipy Quebec village of Three Pines. Each mystery comprises two episodes (dropping weekly, eight over four Fridays), with a continuing storyline involving the disappearance and murders of Indigenous women, which becomes an obsession for Gamache even at the risk of his career.
Slow Horses
The deliciously droll spy thriller adapted from Mick Herron's terrific book series returns for a second season (covering the novel Dead Lions), with the disgraced spies of rundown Slough House on the trail of sleeper agents after the suspected murder of a retired field agent. Their irascible boss, Jackson Lamb (Gary Oldman), has a personal connection to this case, which makes him more irritable than usual when two of his flunkies are tapped by MI5's obsequious James "Spider" Webb (Freddie Fox) to do an off-the-books surveillance that's bound to go sideways.
Scrooge: A Christmas Carol
We'd say stop us if you've heard this one before, but it seems every year we're being treated to new versions of Dickens' classic A Christmas Carol. Hewing close to the source material is director Stephen Donnelly's colorful animated musical, with reimagined songs from the late Leslie Bricusse and Luke Evans voicing the curmudgeonly Ebenezer Scrooge, who's overdue to be reunited with his humanity.
Young Rock
Dwayne Johnson's semi-autobiographical comedy looks back at 1988 with a poignant flashback based on a real incident, when teenage Dewey (Bradley Constant) and his dad Rocky (the charismatic Joseph Lee Anderson) are locked overnight inside a restaurant where the failed wrestler Rocky has taken a cleaning job. Rocky takes the opportunity to level with his admiring son about the state of his stalled career.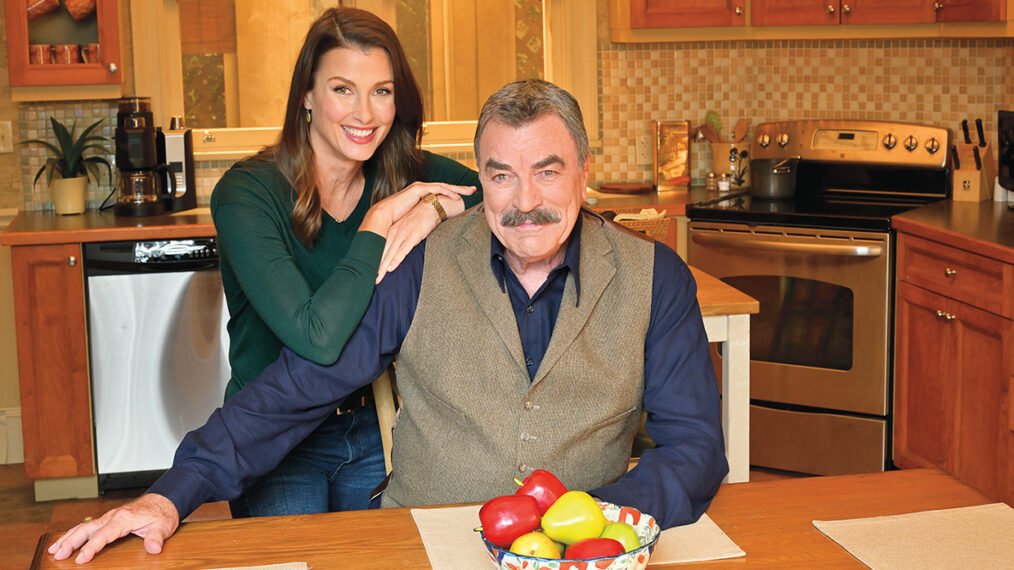 Blue Bloods
There's never a silent night for the Reagans, when police commissioner Frank (Tom Selleck) wakes waves after seeking to discipline an off-duty cop for his inaction during an armed robbery. And there's conflict in A.D.A. Erin's (Bridget Moynahan) office, when she clashes with investigator Anthony (Steven Schirripa) about his daughter, the sole eyewitness to a shooting.
TV Yule Log:
Matt Rogers: Have You Heard of Christmas? (10/9c, Showtime): Comedian Matt Rogers puts his outrageously campy spin on a holiday music special with his "Pop Prince of Christmas" club act, filmed at the Public Theater's Joe's Pub. Saturday Night Live's Bowen Yang makes a special appearance.
Christmas with the Campbells (streaming on AMC+): Brittany Snow stars in a holiday romcom as Jesse, who's dumped by her boyfriend (SNL's Alex Moffat) but opts to spend Christmas with his parents (sitcom vets George Wendt and Julia Duffy), where she meets his charming cousin (Justin Long).
A Big Fat Family Christmas (8/7c, Hallmark Channel): Shannon Chan-Kent is Liv Rose, a Chinese-American photographer who shuns her family's over-the-top annual San Francisco Changtastic holiday party. She sees the light when paired with a writer (Shannon Kook) to report on the festivities.
Cloudy with a Chance of Christmas (8/7c, Lifetime): Valery Ortiz is a national TV weather forecaster who fears being upstaged during her Christmas Eve "snowcast" in a wintry town when she's paired with the morning-show host (Brandon Quinn) who refused to hire her.
Christmas in the Wilds (7/6c, UPtv): Roughing it turns into a battle for survival for Buck (Victor Zinck Jr.) and Jessica (Kaitlyn Leeb).
Candified: Home for the Holidays (8/7c, Cooking Channel): Over four consecutive episodes, airing through 11/10c, Jackie Sorkin and her team of candy artists toil to build a life-size house of sweets.
The Great American Baking Show: Celebrity Holiday Special (streaming on Amazon Freevee): Hosts Ellie Kemper and Zach Cherry lead six celebrity guests through holiday-themed baking challenges, with Paul Hollywood and Prue Leith judging their efforts. Participants include SNL's Chloe Fineman, actors Nat Faxon and D'Arcy Carden, comedian Joel Kim Booster, Super Bowl champ Marshawn Lynch and social media's Liza Koshy.
Hotel for the Holidays (streaming on Amazon Freevee): Riverdale actress Madeline Petsch manages a posh New York City hotel where the holiday clientele keeps her on her toes, including an ex-prince (Max Lloyd-Jones) who causes her to question her affections for the hotel chef (Mena Massoud).
Pentatonix: Around the World for the Holidays (streaming on Disney+): It's a small world for the a capella group as they tour the globe, learning holiday traditions along the way.
The Snoopy Show Holiday Collection (streaming on Apple TV+): Snoopy gets impatient waiting to open his presents in "Happiness Is the Gift of Giving," one of several Peanuts shorts, premiering along with special holiday episodes of Interrupting Chicken and Pretzel and the Puppies.
Inside Friday TV:
True Crime Watch: ABC's 20/20 (9/8c) takes a deep dive into the 2017 disappearance of 15-year-old Tennessee student Elizabeth Thomas, who was taken by her 50-year-old high-school teacher Tad Cummins, initiating a 38-day manhunt. The report includes new evidence, never-broadcast interrogation footage and new interviews with prosecutors and investigators. On Dateline NBC (9/8c), Andrea Canning reports on an African safari gone wrong in 2016, when dentist Larry Rudolph's wife Bianca was shot and killed during a hunting trip in Zambia.
Fire Country (9/8c, CBS): Who you gonna suspect when a designer watch goes missing from a clean-up site? Naturally, Bode's (Max Thieriot) crew of inmate firefighters.
Netflix's overstuffed roster includes a new adaptation of D.H. Lawrence's torrid Lady Chatterley's Lover, starring The Crown's Emma Corrin; Sr., director Chris Smith's documentary about iconoclastic filmmaker Robert Downey, Sr.; and second seasons of female buddy soap Firefly Lane and docuseries My Unorthodox Life.
Riches (streaming on Prime Video): Ted Lasso's Sarah Niles is the matriarch in a trashy soap about a wealthy Black family's British hair-cosmetics empire in disarray after the founder suddenly dies. Also on Prime Video: the Season 1 finale of the mind-blowing sci-fi thriller The Peripheral.
Darby and the Dead (streaming on Hulu): Riele Downs is Darby, whose ability to see dead people takes on a new dimension when her school's queen bee (Auli'I Cravalho) passes away on the eve of her "Sweet 17" party.
Diary of a Wimpy Kid: Rodrick Rules (streaming on Disney+): A sequel to the animated reboot focuses on the fraught relationship of well-meaning middle-schooler Greg Heffley (Brady Noon) and his rowdy older brother Rodrick (Hunter Dillon).
Sean Patton: Number One (streaming on Peacock): Saturday Night Live's Michael Che presents a set from New Orleans' Tipitina's club starring Patton, a self-described "one-man army of buffoonery." Also new to Peacock: Billy Eichner's acclaimed gay romcom Bros, which struggled at the box office but may find its audience on streaming.