Television
3 Reasons to Binge 'Mayor of Kingstown' Season 2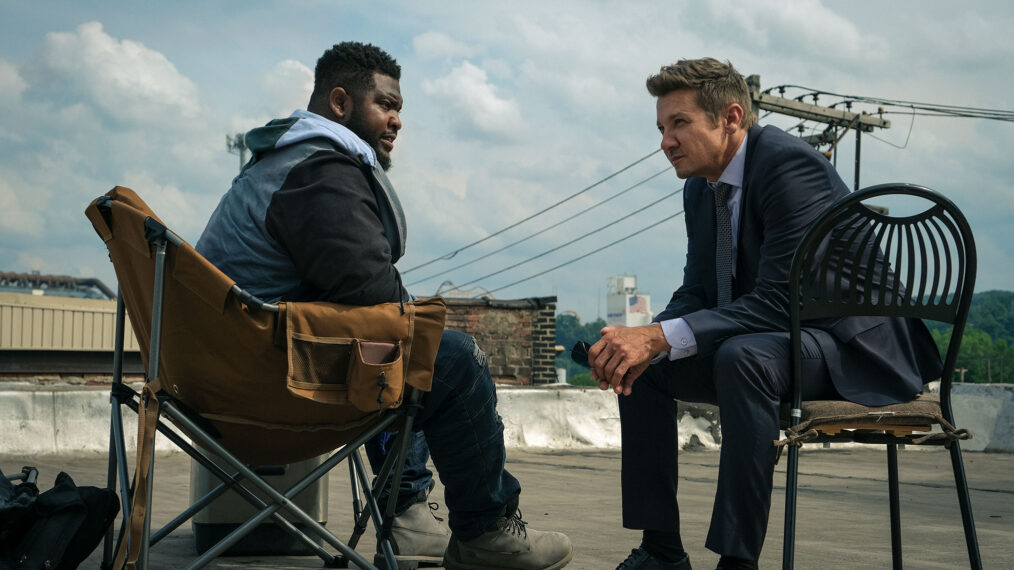 There was no escaping the first installment of this Taylor Sheridan–Hugh Dillon prison-world thriller set in fictional Kingstown, Michigan, where the city's chief business is incarceration. Given last season's explosive finale, what will Mayor of Kingstown Season 2 bring?
The action-packed drama starring Jeremy Renner, Aidan Gillen, Dianne Wiest, Tobi Bamtefa, Taylor Handley, Emma Laird, Derek Webster, Nishi Munshi, and Hamish Allan-Headley. Here, we break down the Season 2 highlights with insight from co-creator and star Dillon.
1. Lots of unresolved anger.
The unofficial "mayor," Mike McLusky (Renner), a power broker between cops and criminals, feverishly tried to keep the peace last season as factions inside and out of prison engaged in unsavory business. But it all blew up in a deadly jailhouse riot.
2. One potential big fix.
To stop the chaos, Mike will create an unorthodox scheme involving his ally Bunny (Bamtefa, above left, with Renner), the local Crips leader. Mike's other quest: find his nemesis, incarcerated Russian mobster Milo (Gillen), who escaped from prison.
3. More family strife.
Mike's mom, saintly widow Miriam (Wiest), and his brother, cop Kyle (Handley), who is recovering from being held hostage in the riot, are impatient for the misery to end and normalcy to return. That remains to be seen. Dillon, who plays Kyle's hard-nosed partner, has said the new season "really shines a light on corruption." But, he added, "there's so much there that's dark."
Incarceration is the only thriving industry of the titular fictional town. The series tackles themes like systemic racism, corruption, and inequality as the main players try to bring order and justice to this area. It's produced by MTV Entertainment Studios, 101 Studios and Bosque Ranch Productions.
Sheridan and Dillon executive produce the series along with Renner, Antoine Fuqua, David C. Glasser, Ron Burkle, Bob Yari, Michael Friedman, Dave Erickson, Regina Corrado, and Stephen Kay.
Mayor of Kingstown, Season 2 Premiere, Sunday, January 15, Paramount+