News & Gossip
Selena Gomez Shuts Down Body Shamers Who Criticized Her Golden Globes Look!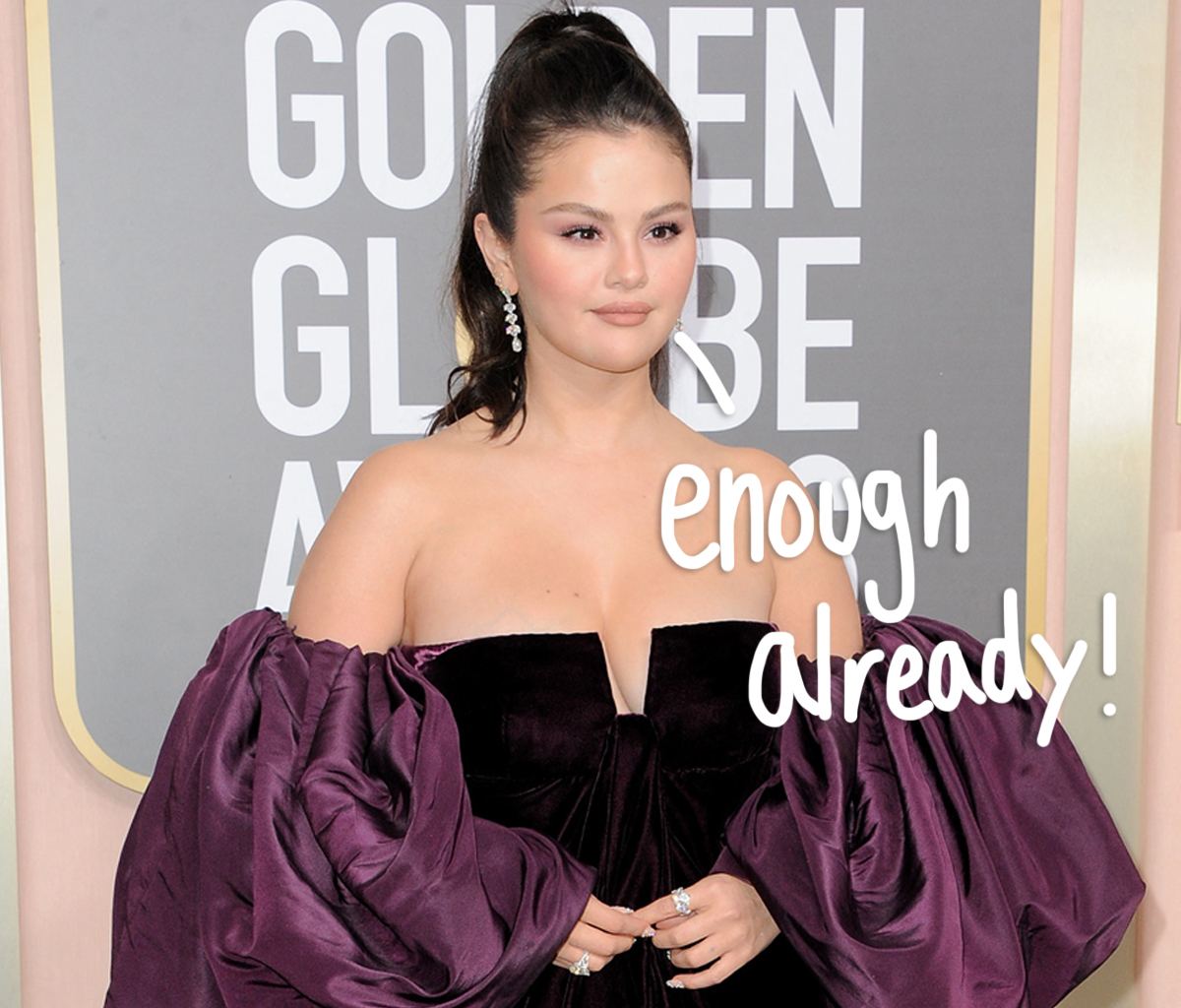 Selena Gomez won't stand for any body-shaming!
ICYMI, the 30-year-old actress attended the 2023 Golden Globes earlier this week with her 9-year-old sister Gracie Elliot Teefey since she was nominated for Best Actress in a Television Series Musical or Comedy for her role in Only Murders in the Building. And she looked ultra-glamorous in wearing a dark plum and velvet gown from Valentino's Fall 2022 Haute Couture collection. The strapless dress was complete with a thigh-high slit, oversized purple sleeves, and jewelry from De Beers. You can ch-ch-check out the entire look (below):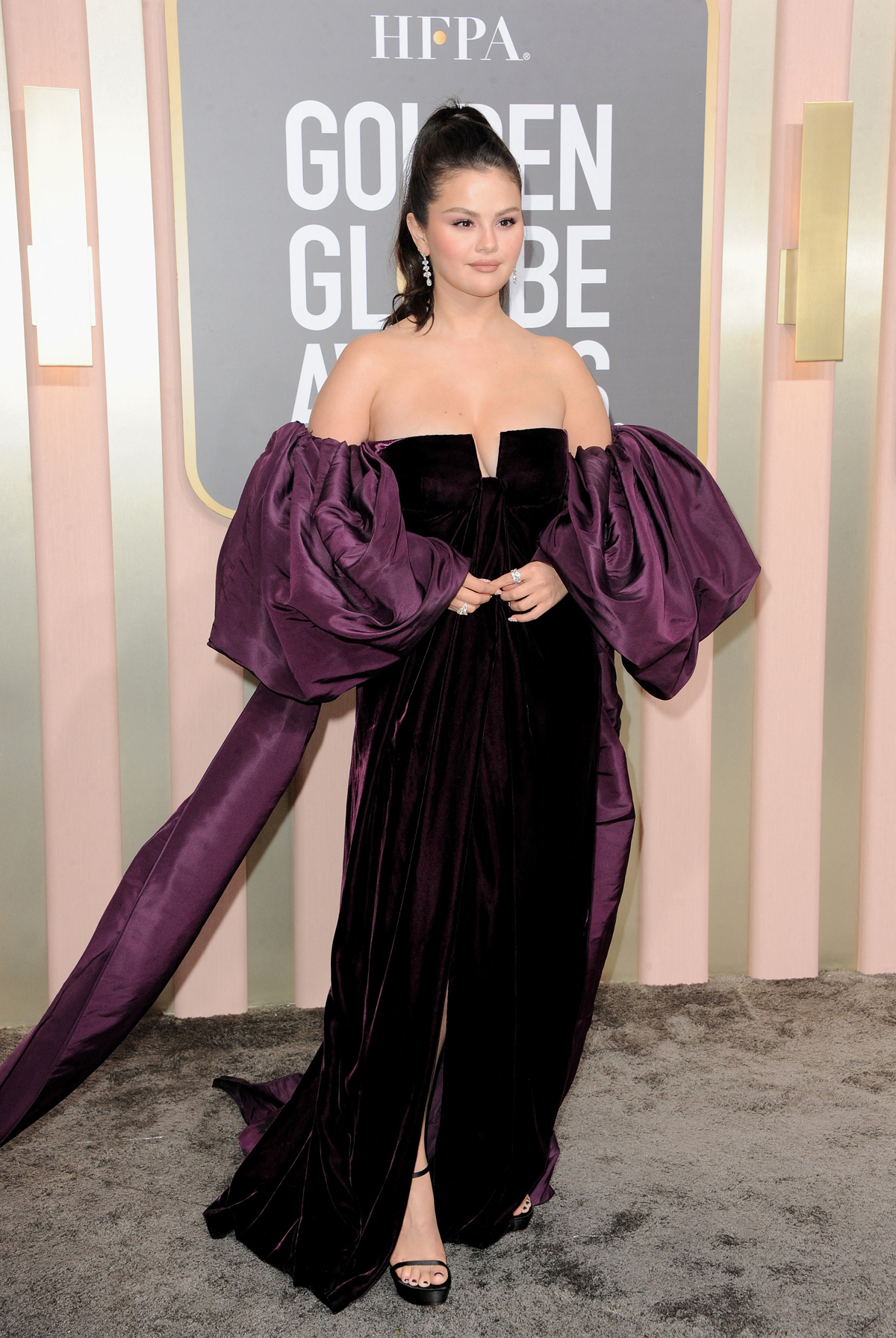 Related: Is Selena Dating Nicola Peltz's Brother Brad?!
She looks absolutely stunning. But apparently, not everyone had something nice to say about it. After walking the red carpet, critics began body-shaming her on social media. Awful. However, it looks like Selena wasn't going to let the haters put a damper on her night out! According to Us Weekly on Saturday, the Wizards of Waverly Place alum took to Instagram Live and seemingly responded to the hate comments:
"I'm a little bit big right now because I enjoyed myself during the holidays."
She then asked her little sister:
"I mean, come on, right?"
After Gracie agreed with Selena, she began laughing before adding:
"But we don't care."
A video of the chat has since gone viral on TikTok. You can ch-ch-check out a part of the conversation (below):
@popnewsdaily

She was also streaming Taylor and miley in the car ???? #selenagomez #bodyshaming #bodypositivity #mileycyrus #taylorswift

♬ original sound – PopNewsDaily
This isn't the first time that Selena has slammed those who've criticized her appearance. In April 2022, the singer commented how she doesn't "care about my weight," saying:
"So I be trying to stay skinny, but I went to Jack in the Box and I got four tacos, three egg rolls, onion rings and a spicy chicken sandwich. But honestly, I don't care about my weight because people bitch about it anyway: 'You're too small.' 'You're too big.' 'That doesn't fit.' 'Meh meh meh meh.' Bitch, I am perfect the way I am. Moral of the story? Bye."
While Selena refuses to let the body shamers get her down, she has been honest about how hard it's been to hear criticism about her appearance over the years. She told her friend Raquelle Stevens on the Giving Back Generations podcast in 2019 that her weight fluctuates due to her lupus treatment:
"It's the medication I have to take for the rest of my life — it depends on even the month, to be honest. So for me, I really noticed when people started attacking me for that. And in reality, that's just my truth. I fluctuate. It depends what's happening in my life."
Ignore the haters, girl! Reactions to Sel's response to the online criticism? Let us know in the comments below!
[Image via MEGA/WENN]