News & Gossip
Idaho Murders: Prosecutors Give HUGE Bryan Kohberger DNA Update Before Trial!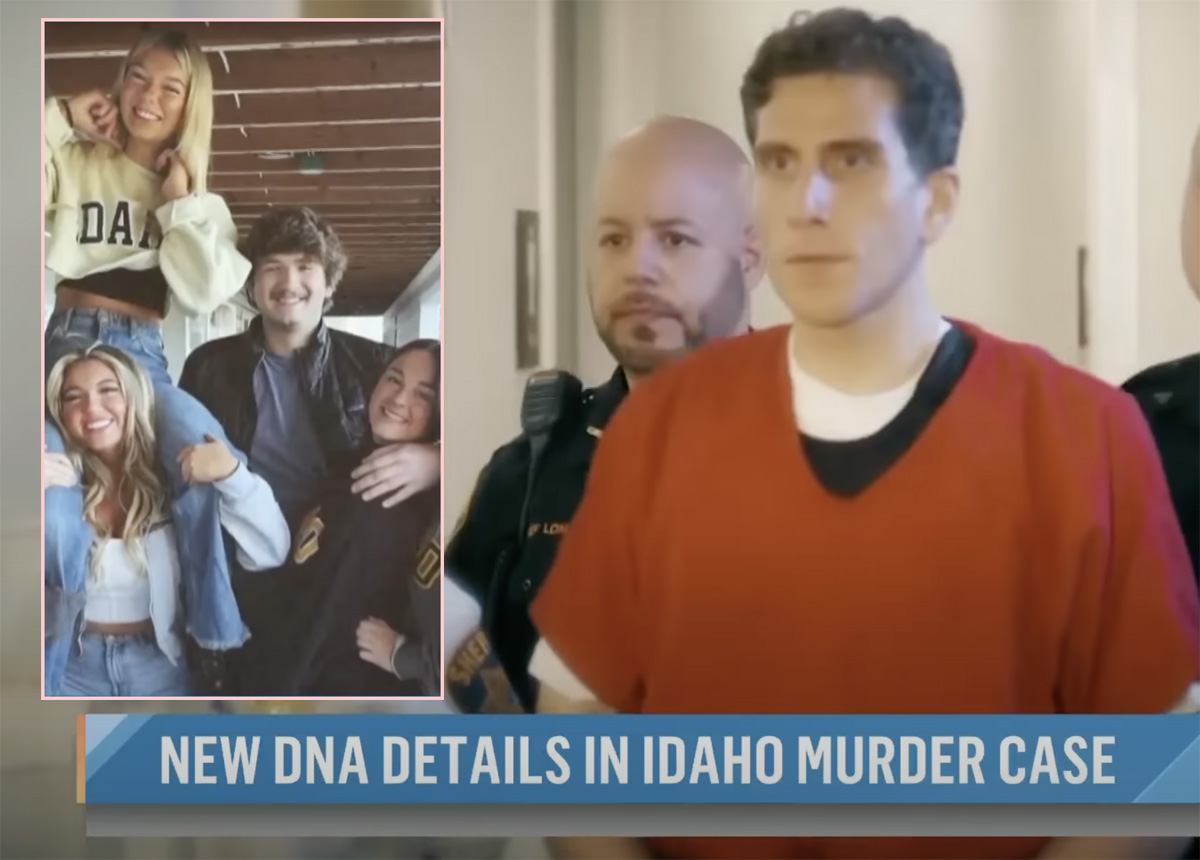 Authorities can now point to an extremely definitive piece of evidence in the case against Bryan Kohberger: DNA.
Of course, the former criminology PhD student has been accused of murdering four University of Idaho college students at their off-campus home in the city of Moscow last November. Madison Mogen, Kaylee Goncalves, Ethan Chapin, and Xana Kernodle were brutally stabbed to death in the early morning hours of November 13. Kohberger was arrested in Pennsylvania nearly seven weeks after the quadruple murder, and has since been extradited to Idaho, where he remains while awaiting trial.
Related: Kohberger Allegedly 'Broke Into' Woman's House Before Murders To Freak Her Out?!
Now, according to multiple media reports, prosecutors say they definitively found the 28-year-old's DNA on the sheath of a knife that was left at the crime scene. The news of this smoking gun new DNA match was reported on Thursday by CBS, CNN, and Pennsylvania news affiliate WGAL, in the market where Kohberger was arrested in late December at his family's home. Upon his arrest, cops took his DNA via a standard cheek swab. And that has now come back as a match. Wow!
If you've followed the case, you may be thinking, Didn't we already know this? Not exactly. See, investigators initially picked up a DNA sample from Kohberger's father in the trash outside of his Pennsylvania home days before the graduate student was arrested last December. That familial DNA sample was then used as a genealogical basis to which forensic investigators compared what they found on the knife sheath. While that was a familial match, this DNA identification is actually a significant update.
Prosecutors are so confident in the findings that they have called it a "statistical match" in new court documents. The DNA was collected via STR — "short tandem repeat" analysis — in which forensic investigators profile DNA evidence with great degrees of certainty.
In court documents filed days ago which first revealed the DNA match, Idaho prosecutors stated in explicit terms just how likely it is that Kohberger is the source of the DNA on the knife sheath:
"The STR profile [on the knife sheath] is at least 5.37 octillion times more likely to be seen if Defendant [Kohberger] is the source than if an unrelated individual randomly selected from the general population is the source."
As CNN notes in their report on the findings, an octillion "is a number equal to a 1 followed by 27 zeros." So, uhhh, yeah. THAT. Pretty sure thing.
Related: Kohberger's Defense Team Claims Surviving Roommate Testimony Can CLEAR Him?!
Reflecting on that prior familial DNA connection in the new court filing, prosecutors explained how they uploaded the DNA from Kohberger's dad into "publicly available genealogy sites." The prosecution then added:
"The FBI went to work building family trees of the genetic relatives to the suspect DNA left at the crime scene in an attempt to identify the contributor of the unknown DNA. [The public genealogy results] pointed law enforcement toward Defendant, but it did not provide law enforcement with substantive evidence of guilt."
See why that's so important? We're talking about proof beyond a reasonable doubt here!
Upon analyzing the DNA from Kohberger's father, investigators found him to be "a male as not being excluded as the biological father of Suspect knife Profile." By then, authorities were pretty certain they had a match:
"At least 99.9998% of the male population would be expected to be excluded from the possibility of being the suspect's biological father."
Because they were so sure — literally 99.9998% sure, per the new docs — Idaho prosecutors followed up with this most recent STR analysis to be sure of what they were seeing. And now, it appears to have come back as a dead-on match.
Related: Idaho Murder Suspect Bryan Kohberger Getting TONS Of Love Letters From Fans!
FWIW, that is a major update from March, when authorities were not nearly as confident about whether Kohberger's DNA matched what was found on the knife sheath.
Here is more on the DNA update, via TODAY (below):
So, this news would obviously seem to be a massive break in the prosecution's favor. And yet as with all defendants, it is important to remember Kohberger remains innocent until proven guilty in a court of law.
That potential courtroom proof is looming quickly, though. The accused murderer's trial is set to begin in front of a jury of his peers on October 2 in Latah County, Idaho.
[Image via TODAY/YouTube/Kaylee Goncalves/Instagram]