Horror
Trapped In Time. Surrounded by Evil. Still The Best: Celebrating 30 Years of ARMY OF DARKNESS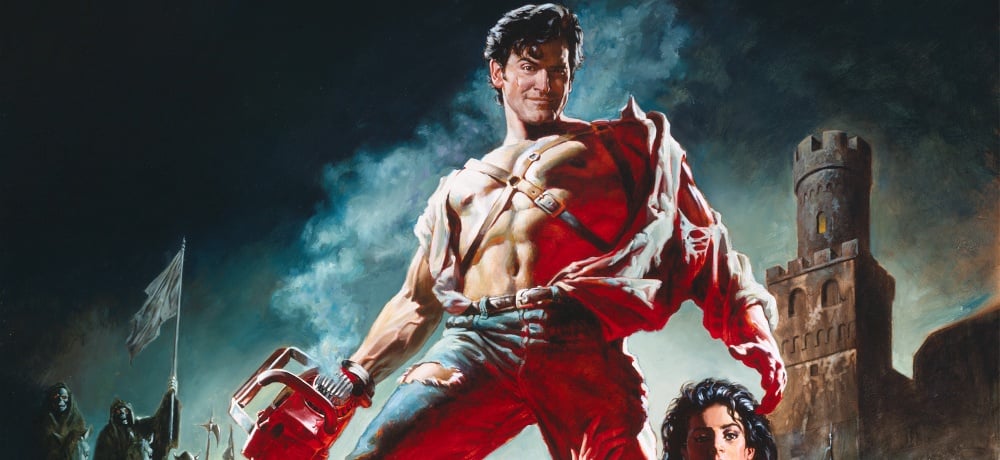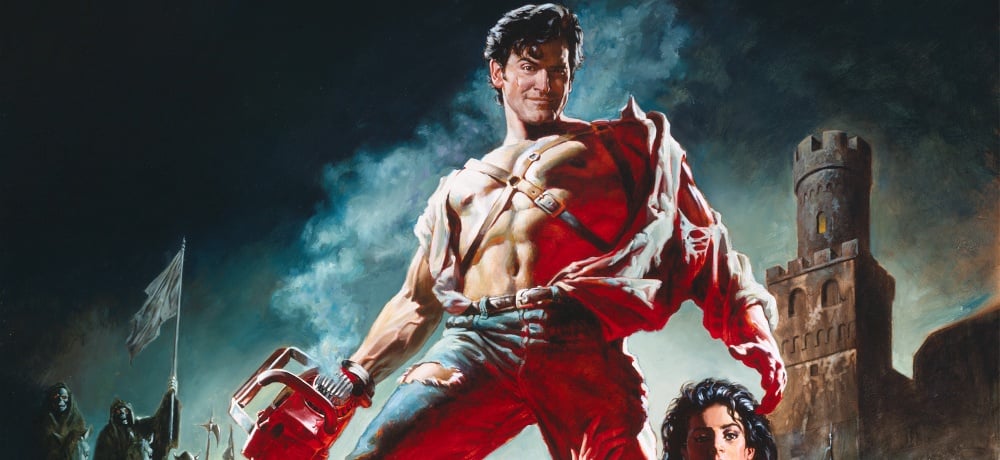 30 years ago, Army of Darkness, the third and final installment in director Sam Raimi's Evil Dead trilogy, premiered at the Sitges Film Festival and would later be released by Universal Pictures in 1993. Army of Darkness follows hapless S-Mart employee Ash (Bruce Campbell) as he fights against the titular army of bloodthirsty Deadites in the Middle Ages to return to his own time.
It's my favorite film of the Evil Dead trilogy and one of Raimi's finest hours as a director. I first discovered the film through a mixture of television and YouTube videos about the grander Evil Dead trilogy by James Rolfe of Angry Video Game Nerd fame. Army of Darkness instantly made me obsessed with the entire franchise. I read Bruce Campbell's first autobiography, If Chins Could Kill, in the lead-up to Fede Alvarez' Evil Dead remake's release in 2013. I even made Ash's final narration in Army of Darkness my senior quote when I graduated from high school ("Sure, I could've stayed in the past…").  Even though it's hailed by most horror fans as a classic nowadays, it had a pretty bumpy road to getting to that point.
The road got bumpy when Raimi's preferred 96-minute cut was trimmed down to the 81-minute theatrical cut. This editing process resulted in the circulation of Army of Darkness' four different cuts, including the director's, theatrical, international, and television cuts. The box office results basically meant Army of Darkness cost approximately $11 million and made back roughly $11 million domestically, meaning the film essentially broke even at the box office in the US.
Soon after it broke even at the box office domestically, defunct home media company Anchor Bay picked up the home media license and released it on VHS and DVD. Anchor Bay's home media releases, combined with television and Fangoria coverage, is where the film developed a following. Army of Darkness was destined for this trajectory based on its extremely campy, fun atmosphere, owing to Raimi's directing sensibilities.
When Raimi made Army of Darkness, he had some mainstream success with the deeply underrated Darkman (I highly recommend it!) two years prior in 1990. Army of Darkness represents the point in Raimi's career where he first called back to his indie filmmaking period and experimented with studio resources to top what he had done before. This is exemplified in how his direction is even more frantic and wild than Evil Dead 2, with motifs like the Three Stooges homages being amplified up to 11. The windmill and graveyard scenes are massive testaments to this amplification, with their constant camera movement and cartoonish imagery. It's stated in the bonus features on Scream Factory's great Blu-ray that the crew had to rein in Raimi's more out-there ideas when shooting Army of Darkness.
After the film's release, Raimi increasingly directed more grounded films such as A Simple Plan and For Love of The Game, with little nods to Evil Dead. Although the Spider-Man trilogy had more traces of the style Raimi had in his Evil Dead days, he wouldn't officially go back to Evil Dead-style craziness until Drag Me to Hell was released in 2009. 
Army of Darkness also solidified the continuing creative relationship between Raimi and Campbell. While Campbell had acted in a few films such as Maniac Cop between Evil Dead 2 and Army of Darkness, he really comes into his own as an actor in Army of Darkness through his third portrayal of the heroic idiot that is Ashley J. Williams. Campbell's natural screen presence and snarky line delivery convincingly sell Ash's development from a reluctant hero to a leader in the fight against the Deadites. Army of Darkness was also the first time in the franchise when Ash is the de facto main lead. The Evil Dead was more of an ensemble piece and Campbell's Ash was more of a co-lead alongside Sarah Berry's Annie Knowby in Evil Dead 2. Though Campbell plays off characters like Embeth Davidtz' Sheila and himself as Bad Ash in Army of Darkness, it's still clearly his film. On the topic of Bad Ash, it's crazy how well Campbell conveys emotion and body language through makeup artist Tony Gardner's detailed makeup, seamlessly sliding between being goofy and threatening.
After completing Army of Darkness, Campbell's career would become a lot more productive, with memorable roles in television series such as Xena: Warrior Princess and movies like Escape from L.A. Campbell would go on to continue the tradition started by Darkman and cameo in Raimi's subsequent films. As recently as this year, Campbell had an extended cameo in Doctor Strange in the Multiverse of Madness as the Pizza Poppa.
Although "groovy" and "swallow this!" are two of the Evil Dead franchise's most iconic phrases tied to Evil Dead 2, everything else most people associate with the franchise is tied to Army Of Darkness. Besides the absolutely iconic "This is my boomstick!" monologue, many of Ash's other awesome one-liners clearly made an impact. Video game character Duke Nukem lifted lines like "hail to the king, baby!" verbatim, apparently to Campbell's chagrin. Ash vs Evil Dead was aesthetically inspired by Evil Dead 2, but certain aspects like Ash's characterization as a supermarket employee were lifted from Army of Darkness. It's saying something that the most explicitly represented characters in the video game, besides the characters from Ash vs Evil Dead, are from Army of Darkness (Henry the Red, Lord Arthur, and Bad Ash).
The scale of its cultural influence could also be boiled down to its far more prominent release as a studio picture compared to the prior two independently released films and the theatrical cut being the franchise's absolute tamest installment. Campbell even remarks on the film being almost PG in content in the Scream Factory Blu-ray documentary Medieval Times: The Making of Army of Darkness.
Considering the franchise has lived on for years through TV show adaptations, reboots (such as the upcoming Evil Dead Rise), and video games, its longevity can be owed to Army of Darkness bringing more awareness to the grander franchise. Army of Darkness' cult film success also shows the power of campy storytelling and how more films should embrace it. Regardless of whether the franchise continues to be dead or alive in the public consciousness, Army of Darkness will continue to be the ultimate experience in medieval horror.