Horror
Q&A: Writer Eric Palicki Discusses the Return of Werewolf Private Eye Janie Jones "Strummer" Mercado in BLACK'S MYTH: THE KEY TO HIS HEART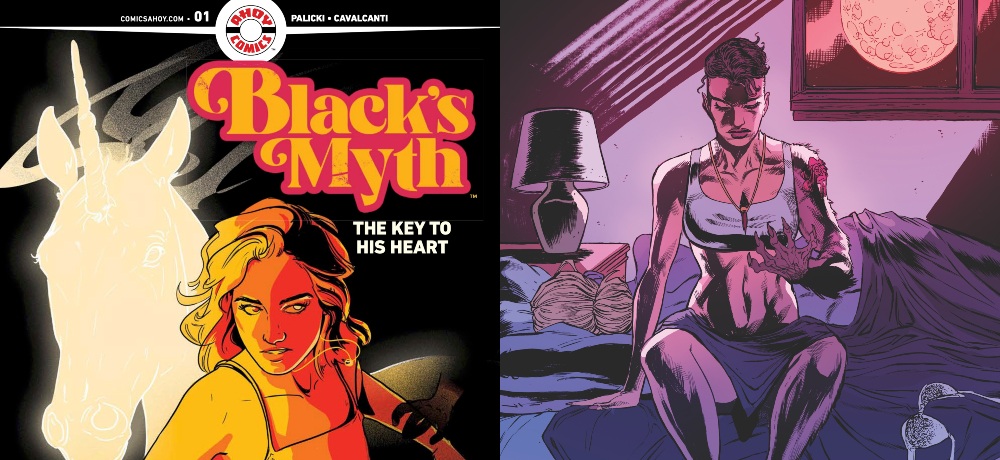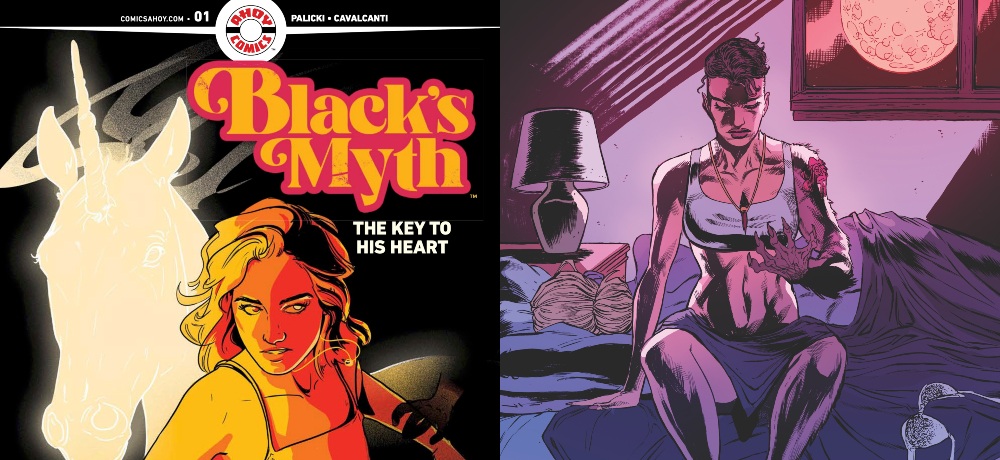 Werewolf private investigator Janie Jones "Strummer" Mercado and her djinn assistant Ben Si'lat return for more supernatural sleuthing in Black's Myth: The Key to His Heart, the follow-up miniseries to Eric Palicki and Wendell Cavalcanti's AHOY Comics miniseries that debuted in 2021.
Ahead of its release on June 21st, we caught up with Palicki in a new Q&A feature to discuss reteaming with artist Wendell Cavalcanti for more Black's Myth adventures, what readers can expect this time around from Strummer and Si'lat, as well as the joys of working with AHOY Comics.
Below, you can read our full Q&A with Palicki and view the main cover art by Liana Kangas and variant cover art by Tim Seeley, and in case you missed it, check out our exclusive preview of Black's Myth: The Key to His Heart #1!
To learn more about Black's Myth: The Key to His Heart, be sure to keep an eye on AHOY Comics' official website!
Thank you for taking the time to answer questions for us, Eric, and congratulations on the return of Black's Myth this summer with The Key to His Heart! Did you always intend to continue the adventures of werewolf PI Janie Jones "Strummer" Mercado and her djinn assistant Ben Si'lat?
Eric Palicki: Thank YOU! In truth, I did not expect to return to this story, not because I didn't want to, but because the success we've enjoyed is so rare in comics these days.
I think I left Strummer and Ben in a good place at the end of the first volume, finally comfortable with her place in the world, one foot each in the mundane and supernatural sides of Los Angeles. Of course, I always hoped I could come back, and I'm thrilled Ahoy, and the readers, wanted us to continue.
This time around, Strummer and Ben have another encounter with Rainsford Black while taking on a new case involving a girl on the verge of becoming a monster. How fun was it for you to continue fleshing out the characters of Strummer, Ben, and Rainsford while introducing new faces along the way?
Eric Palicki: Character is everything! Claire, the girl in question, is meant to be new readers' surrogate, at least in the first issue, while we all get reacquainted with Strummer and the worlds she inhabits. In fact, I'm really pleased with how the first issue came together, it's a stand-alone issue that sets the stage for the upheaval to come. And this being a noir tale with a horror vibe, we're about to put these characters through their paces.
I love how your prose combines with the distinct styles of artist Wendell Cavalcanti and cover artist Liana Kangas, and they're both returning for The Key to His Heart. What has it been like to reunite with them to bring this story to lycanthropic life?
Eric Palicki: Wendell and I have been making comics together for more than a decade, before this project and hopefully forever. If it hadn't been another volume of Black's Myth, it would have been more Atlantis Wasn't Built for Tourists or something else. I can't imagine a comics career without Wendell in it somehow.
Liana is a dear friend, and I love the unique "50s pulp novel cover but make it neon" sensibility she brings to this book. It's perfect. Liana's star is on the rise, so I'm lucky we got her back for the sequel. Her contribution is every bit as vital to the finished package as mine or Wendell's. Wait until you see the issue #4 cover!
The setting of Los Angeles is a character all its own in Black's Myth. Have you drawn on personal experiences in that city as you write this story?
Eric Palicki: Of course. I love LA. I don't think the city deserves its bad reputation, not entirely. I think a person could thrive there, so long as they're prepared. The creative community, once you get beyond the Hollywood façade, is among the most vibrant I've ever encountered.
To answer the specific question, in issue #3 the characters visit a bar that is very much inspired by a speakeasy I visited with my sister and her friends last time I was in Los Angeles, including the unusual method of entry.
What types of punk rock horror and supernatural creatures await readers in this latest story arc of Black's Myth?
Eric Palicki: Readers will see the return of some old friends, Aster the minotaur, Chad the vampire, Galatea, and the cover to issue #1 gives away the surprise unicorn. Plus, we're giving you witches!
Do you have any favorite noir or supernatural movies, TV series, books, or comics that have influenced you while working on Black's Myth?
Eric Palicki: So many! The Maltese Falcon heavily inspired our first volume. For the second volume, there are hints of Chinatown and Angel Heart, along with the always-present Buffy the Vampire Slayer. For noir with Ahoy's signature hint of comedy, I leaned on The Thin Man. And I think this volume informs our first volume in the same way the second season of Veronica Mars informs its first.
What has it been like to work with AHOY Comics to continue releasing Black's Myth into the world?
Eric Palicki: AHOY is a dream to work for! Considering the recent conversations surrounding #ComicsBrokeMe, I want to take a moment to celebrate AHOY, who have always treated me fairly and given me the creative runway to tell the stories I needed to tell.
Do you have plans to continue the adventures of Strummer and Ben in more Black's Myth sequels after The Key to His Heart?
Eric Palicki: I hope so! This volume feels a bit like Strummer's Empire Strikes Back, and I hope we can come back and at least close out her story on an upbeat note. But it's ultimately up to the readers, of course.
What advice would you give to aspiring comic book writers who are just getting started?
Eric Palicki: Start small! The first comics I ever made were four-page shorts with future Black's Myth collaborator Wendell Cavalcanti. I'm not sure if they were any good, but I learned the basics–and worked some bad habits out of my system–before attempting something longer. Your first footrace shouldn't be a marathon, you know?
With the first issue of Black's Myth: The Key to His Heart coming out on June 21st, do you have any other upcoming projects that you can tease? Also, where can our readers go online to keep up to date on your work?
Eric Palicki: An apocalyptic miniseries TOXX serializes in comics shops beginning in July. Toxx is coming from Blood Moon Comics and I wrote the scripts from a plot by games designer Evan Carothers.
For more information, please give me a follow on Twitter or Instagram @ericpalicki. Or visit my website: www.ericpalicki.com.
———
The acclaimed punk rock horror series BLACK'S MYTH by writer Eric Palicki (Atlantis Wasn't Built For Tourists), artist Wendell Cavalcanti (BlackAcre), and superstar cover artist Liana Kangas (Trve Kvlt, She Said Destroy) is returning this summer with an all-new mini-series from AHOY Comics. The critically acclaimed comic features werewolf PI Janie Jones "Strummer" Mercado and her charming djinn assistant Ben Si'lat solving crimes in the "supernatural underground" thriving in Los Angeles. BLACK'S MYTH: THE KEY TO HIS HEART debuts in June, with an incentive cover by Tim Seeley.

"I've made a terrible mistake, and I don't just mean pursuing a career in comics!" said writer Eric Palicki. "How can we continue calling our book Black's Myth unless Strummer once again finds herself in the orbit of her enigmatic client-turned-nemesis Rainsford Black? Hopefully, Volume Two reveals Mister Black to be a little less mysterious and perhaps a tad more sympathetic, as Wendell and I build on the unanswered questions of the first volume while also delivering a new mystery for Strums and Ben to unravel."

In her latest case, werewolf private eye Janie Jones "Strummer" Mercado tries to prevent a young girl from becoming a monster with the aid of her suave djinn assistant, Ben Si'lat. But will Strummer gain an intern instead? And why is an old enemy sending mysterious packages to her house?

"I've always loved werewolves, but I never thought I'd be working on a werewolf comic series," said artist Wendell Cavalcanti. "And here I am for the second time (wow!), in a supernatural Los Angeles where I can draw werewolves, vampires, djinns, witches, and The Minotaur (there is only one). It's exciting to show a little more of these characters. I can only say thank you very much to all of you."

BLACK'S MYTH: THE KEY TO HIS HEART will be published monthly by AHOY Comics, with the first issue hitting stores on June 21, 2023, for $3.99. Like all AHOY titles, it will feature extra prose stories and illustrations.

For more updates on AHOY Comics, visit them on Twitter, Facebook, and Instagram.

BLACK'S MYTH: THE KEY TO HIS HEART #1

(W) Eric Palicki
(A) Wendell Cavalcanti
COVER A: Liana Kangas
COVER B: Tim Seeley

It's back—the "moody tale that smartly blends familiar supernatural elements with the trappings of classic pulpy crime stories" (Comics Beat). In this new case, werewolf private eye Janie "Strummer" Mercado tries to prevent a young girl from becoming a monster, with the aid of her suave djinn assistant Ben Si'lat. But will Strummer gain an intern instead? And why is an old enemy sending mysterious packages to her house?

Featuring cover A by Liana Kangas and incentive cover B by Tim Seeley.

June 21, 2023
$3.99
Cover Art by Liana Kangas: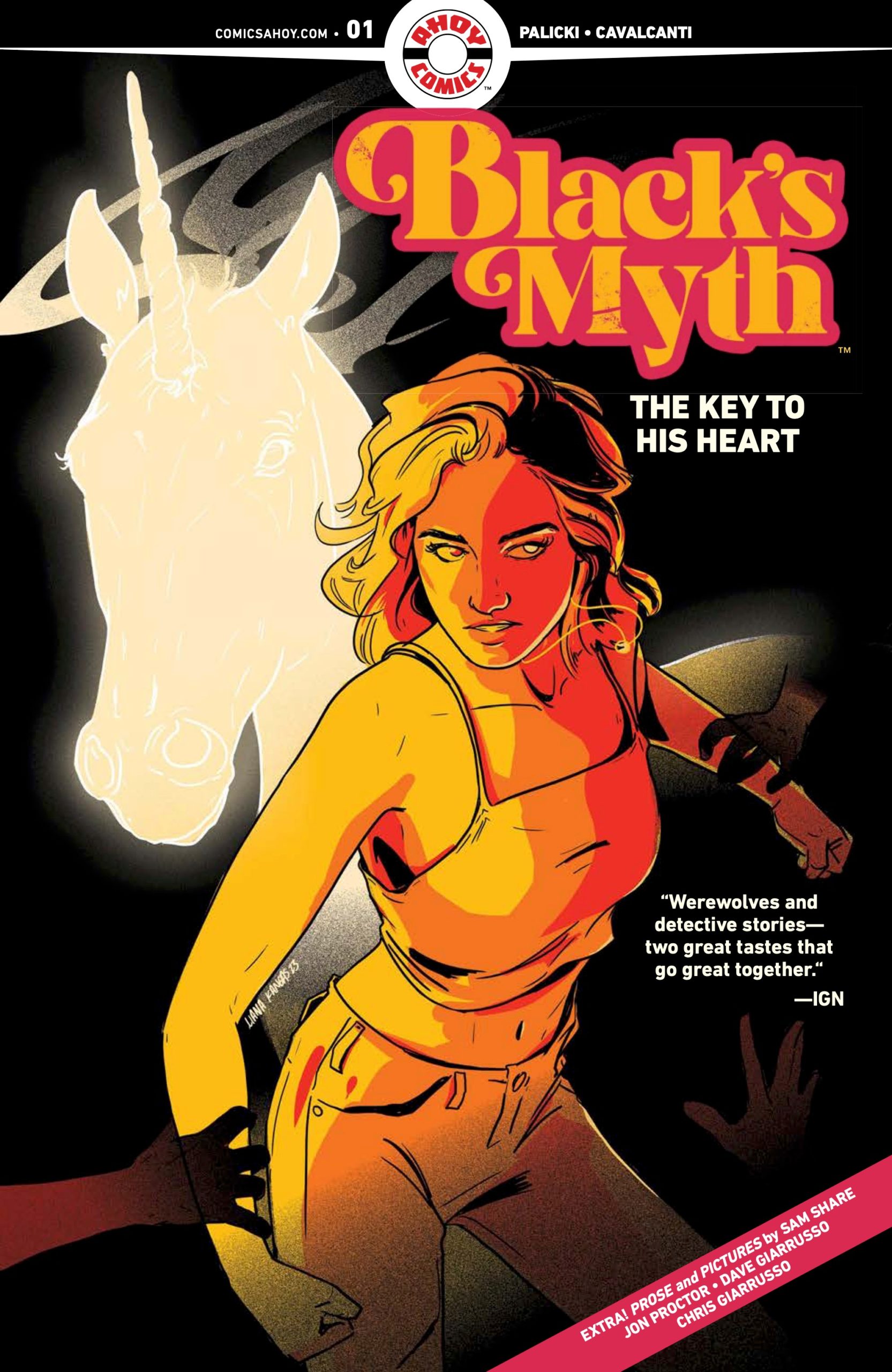 Variant Cover Art by Tim Seeley: