Horror
Q&A: Artist Nick Brokenshire Discusses Teaming Up with Cavan Scott for New IDW Comic Book Series DEAD SEAS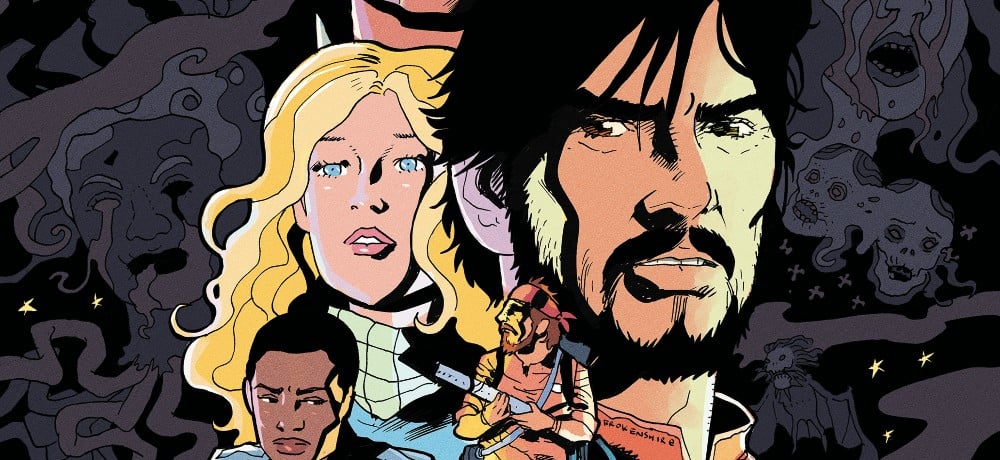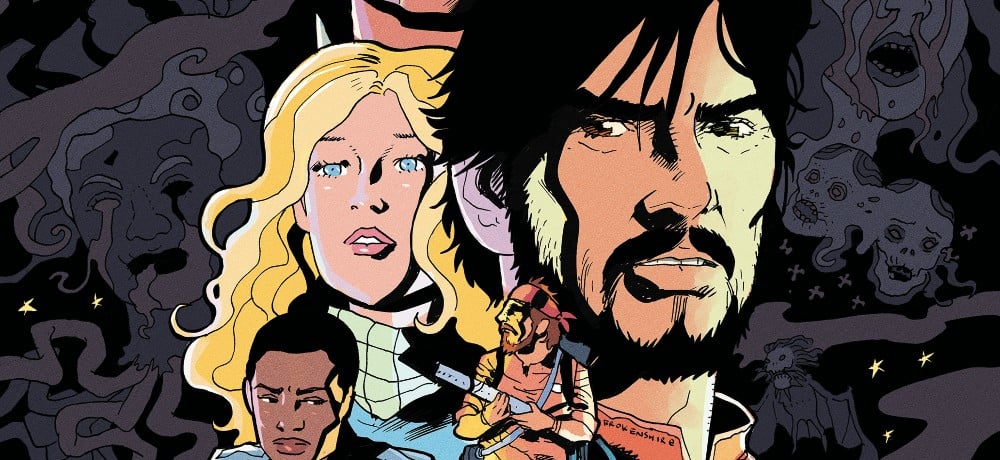 A sinking ship is filling up with water and supernatural entities in the new comic book series Dead Seas, and ahead of the first issue's release on December 21st from IDW, I caught up with artist Nick Brokenshire to discuss teaming up with Cavan Scott after they both worked on Star Wars Adventures, his unique approach to drawing the ghosts in this new series, and how he was influenced by Jim Henson and Ghostbusters while illustrating Dead Seas.
You can read our full Q&A with Nick Brokenshire below, and in case you missed it, check out our previous preview of Dead Seas #1, and keep an eye out for our upcoming Q&A with Cavan Scott!
Thank you so much for taking the time to answer questions for us, Nick, and congratulations on your new comic book miniseries Dead Seas! How did you initially team up with Cavan Scott and get involved on this miniseries?
Nick Brokenshire: Cavan and I essentially met through working on Star Wars Adventures for IDW. We struck up a friendship and very soon afterward decided we ought to work on something together. Cavan had the basic idea for Dead Seas—which was called Ghost Ship in those days—and we just started fleshing it out. I started drawing weird ghouls and he responded to the designs with ideas for story. Back and forth like that for a while and soon we had a pitch.
Your artwork for Dead Seas really immerses the reader in this creepy story. What has it been like to bring Cavan's prose to life on the page?
Nick Brokenshire: Well, Cavan gives me a lot of room to explore how to depict stuff. Occasionally, he will have a very specific thing in mind for me to draw, but generally I'm free to do what I like—within reason! Having things set at sea and on ships has been fun because I'm quite well acquainted with the world of ships and seafaring. My father was a deep-sea diver and my sister is a yacht-sailing teacher.
I love your approach to the supernatural characters in Dead Seas—they remind me of the eerie entities in Ghostbusters while still being unique to this story. How much creative freedom did you have in coming up with the look for the horror elements of Dead Seas?
Nick Brokenshire: Oh, total freedom. In fact, as soon as we started batting the idea around for the book, I started scribbling these bizarre, twisted ghosts—which in turn influenced the direction of the book. I was influenced by Ghostbusters—definitely! I like designing ghosts that aren't just shadowy versions of people, but rather twisted manifestations of a corrupted psyche. We adopted this concept and that's why our ghosts are more monstrous.
Were you influenced or inspired by any other comic books, movies, TV series, video games, or books while working on Dead Seas?
Nick Brokenshire: I'm hugely influenced by manga and anime as well as all the classic western things. In the back of my mind, I have the dreadful things from Berserk and Urotsukidoji influencing my designs a bit. I like the darker side of Henson, like the creatures in Farscape. A lot of Eastern European fairy tales, too. That's all in there.
The initial arc of Dead Seas is six issues, but do you have plans to tell more stories in this universe beyond those six issues if given the opportunity?
Nick Brokenshire: Like Cavan says—there are always more stories! What sights we could show you…. Hang on, that's been taken.
Ultimately, what do you hope readers take away from Dead Seas?
Nick Brokenshire: We want readers to feel like they're immersed (hoot!) in this situation. We are bringing characters that we really care about into a very tricky situation, and we want readers to also care what happens to them. In the end, hope is what drives the story. Hope of survival and of reconnecting with what's important—our loved ones.
What advice would you give to aspiring comic book artists who are just getting started?
Nick Brokenshire: Draw constantly—especially the things you find difficult. Study the greats and remember, it's a long game. Do what you need to do to keep going over the years while you build your chops and skills—you'll get there in the end. Don't stop believin'. Hold on to that feelin'. Streetlight people. Oooooh!
With Dead Seas #1 coming out on December 21st from IDW, what other upcoming projects are you excited about, and where can our readers go online to keep up with your work?
Nick Brokenshire: Cavan and I have a super secret Star Wars romp in the pipeline which you'll see next year. Really fun. More spooky Star Wars perhaps, too…. Well see. Also this and that. Hoo hoo.
————
Previous Press Release: SAN DIEGO, CA – IDW is proud to announce the December release of Dead Seas, the highly-anticipated original comic book series by Cavan Scott and Nick Brokenshire. Part Poseidon Adventure, part The Haunting of Hill House, this supernatural thriller reunites the fan-favorite Star Wars writer-and-artist team for a tale of specters, prisoners, pirates, and disaster on the open ocean!

In Dead Seas, ghosts are real and very dangerous…but they're also valuable, their ectoplasm capable of curing countless diseases. There's only one problem: harvesting the wonder drug can be just as deadly. Prisoner Gus Ortiz is willing to take the risk in return for a reduced sentence—anything to see his daughter again. All it will take is a few months at sea scraping ectoplasm off the walls of the Perdition, a floating prison containing the most vicious ghosts on Earth. Surrounded by dark waters, Gus soon realizes that angry spirits are the least of his worries!

"I grew up obsessed with disaster movies, but there was only one problem: there were never enough ghosts! Dead Seas is my chance to put this terrible wrong right, and who better to team up with than Nick Brokenshire. Working together on Star Wars Adventures: Return to Vader's Castle, it soon became clear that we share the same ghoulish sense of humor and I knew immediately who I wanted to bring Dead Seas' tortured spirits to life. Or should that be death?" says Scott.

"I have something of a sea-faring background—my dad was a deep-sea diver, my sister an accomplished sailor, and I enjoy long soaks in a bubble-bath—so the whole sea adventure angle is very appealing to me. Add weird, twisted ghouls and the recipe is delicious, I'd say!" says Brokenshire. "The idea of very flawed individuals finding goodness in themselves in spite of very strange and frightening circumstances is something that I think many of us are drawn to. In the end, we all hope we'll do the right thing when faced with a giant, amorphous, killer-baby-ghost."

"From the moment Cavan and Nick pitched us Dead Seas, I was hooked. Cavan's a brilliant storyteller, and I'm genuinely terrified for the well-rounded characters in the amazing, action-filled tale that he's crafted. Not to mention, Nick's artwork has never looked better—the ghost designs are totally off the wall," says editor Chase Marotz. "We're absolutely thrilled to see Dead Seas take shape as an IDW Original series"

Dead Seas #1 will be available with three variant covers for fans and retailers to enjoy, including Cover A by Nick Brokenshire, Cover B by Scott's Star Wars: The High Republic collaborator Ario Anindito, and Cover C by Frazer Irving (Batman & Robin).

For information on how to acquire copies of the Dead Seas comic books, please contact your local comic shop or visitwww.comicshoplocator.com to find a store near you.
Cover Art by Nick Brokenshire: