Horror
Horror Highlights: LEGIONS, CRYPTID, ARROW, SCREAMBOX, ON THE TRAIL OF BIGFOOT: LAST FRONTIER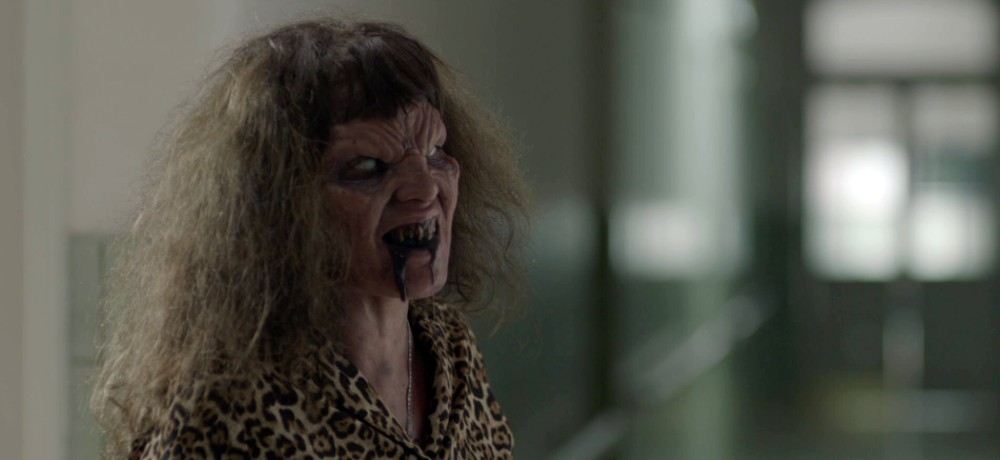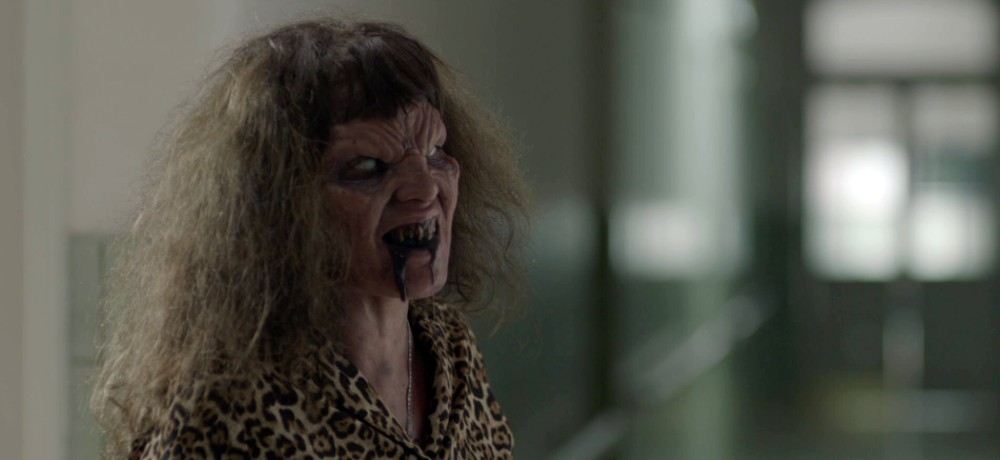 Watch the Trailer for LEGIONS: "XYZ Films is proud to launch the trailer to Fabián Forte's LEGIONS, which will land on North American VOD January 19th following an acclaimed festival run that included Sitges, Fantasia, and Fantaspoa. An unabashed love letter to Sam Raimi's EVIL DEAD series, this gory, hilarious, and heartwarming horror gem is the perfect way to start your 2023!
Prolific Argentinian filmmaker Fabián Forte's newest film combines the best of his previous cinematic endeavors: the comedic writing and direction of his 2016 hit DEAD MAN TELLS HIS OWN TALE is masterfully mixed with mystical horror of 2017's TERRIFIED – which Forte contributed to – and once you add a dash of slapstick gore and a whole lot of heart, and you have LEGIONS of fun!
A powerful sorcerer, Antonio Poyju (Germán De Silva), is locked away in an asylum, and wastes away in his imprisonment as evil, demonic forces take control of Argentina. If Antonio can escape the psychiatric hospital and find his daughter, Helena, their combined strength could save Argentina… but Helena has forgotten her powers.
Now Antonio must reteach her the ways of magic… and be humanity's last hope against ancient evil!
Written and directed by Fabián Forte, the film stars Germán de Silva, Ezequiel Rodriguez, and Lorena Vega and is produced by Javier Diaz.
This wildly acclaimed Argentinian folk-horror powderkeg is rich with cultural vibrancy, all the while dwelling on the important role of heritage and belief in the mystical."
—
CRYPTID: "Writer/Director Brad Rego and 221 Films, Inc. announce the North American release of the award-winning independent horror film, Cryptid. The video on demand will be available on Google, Vudu, Amazon, Microsoft, Redbox VOD, InDemand, and DirectTV on January 3, 2023.
The movie Cryptid provides classic horror vibes and is backdropped in a sleepy New England town. The intentional lack of CGI makes the effect-driven film a welcome treat for traditional horror movie fans. The cinematography adds depth to the screen with a rustic and immersive rainy atmosphere, that plays into the suspense. The storyline is a slow-burn "whodunit" where our journalists Max and Harriet must figure out how to stop a deadly creature lurking in the shadows before it's too late.
Practical effects were always a priority from the start of production, a suit was designed with specific molding and animatronic technology for actor/dancer Emme Burchardt to wear on set. Nicholas Baroudi plays journalist Max, and Ellen Adair plays photojournalist Harriet. Chopper Bernet, Kevin O'Rourke, Kate MacCluggage, and Jeanine Bartel also star in the film.
Cryptid's director Brad Rego is an award-winning director and cinematographer who has most of his experience in horror films. He has directed four feature films and five different short films that have gone to festivals, as well as worldwide distribution. He has also worked as a cinematographer on feature films, commercials, and documentaries, including shows on TLC, Hulu, PBS, and DIY Network.
Cryptid has won Best Narrative Feature, Best of the Fest at the Adirondack Film Festival, and Best Director at Shockfest."
—
ARROW Announces January 2023 SVOD Lineup: "Arrow Video has announced the January 2023 lineup for their subscription-based ARROW platform, available to subscribers in the US, Canada, the UK and Ireland.
The January 2023 lineup leads with the Lukas Moodysson Collection. Ever since his debut he was heralded as "a young master's first masterpiece" by Ingmar Bergman, Moodysson has been hailed internationally as one of Sweden's greatest filmmaking talents, delighting and confounding audiences in equal measure.
January 2023 Curated Seasons: Adam Egypt Mortimer Selects, Ravenous Cannibals, The First Time, The Lukas Moodysson Collection
Subscriptions are available for $6.99 monthly or $69.99 yearly. New subscribers can start a 30 day free trial.
ARROW is available in the US, Canada, the UK and Ireland on the following Apps/devices: Roku (all Roku sticks, boxes, devices, etc), Apple TV & iOS devices, Android TV and mobile devices, Fire TV (all Amazon Fire TV Sticks, boxes, etc), and on all web browsers at https://www.arrow-player.com.
ARROW Essentials curates collections based on genre, decades and themes; and ARROW Stories takes a fresh look at the world of film and TV with exclusive documentaries, interviews and video essays diving deeper into the many curated seasons and titles on the platform for a richer and deeper viewing experience.
With a slickly designed and user-friendly interface, and an unparalleled roster of quality content from westerns to giallo to Asian cinema, trailers, Midnight Movies, filmmaker picks and much, much more, ARROW is the place to go for the very best in on-demand entertainment."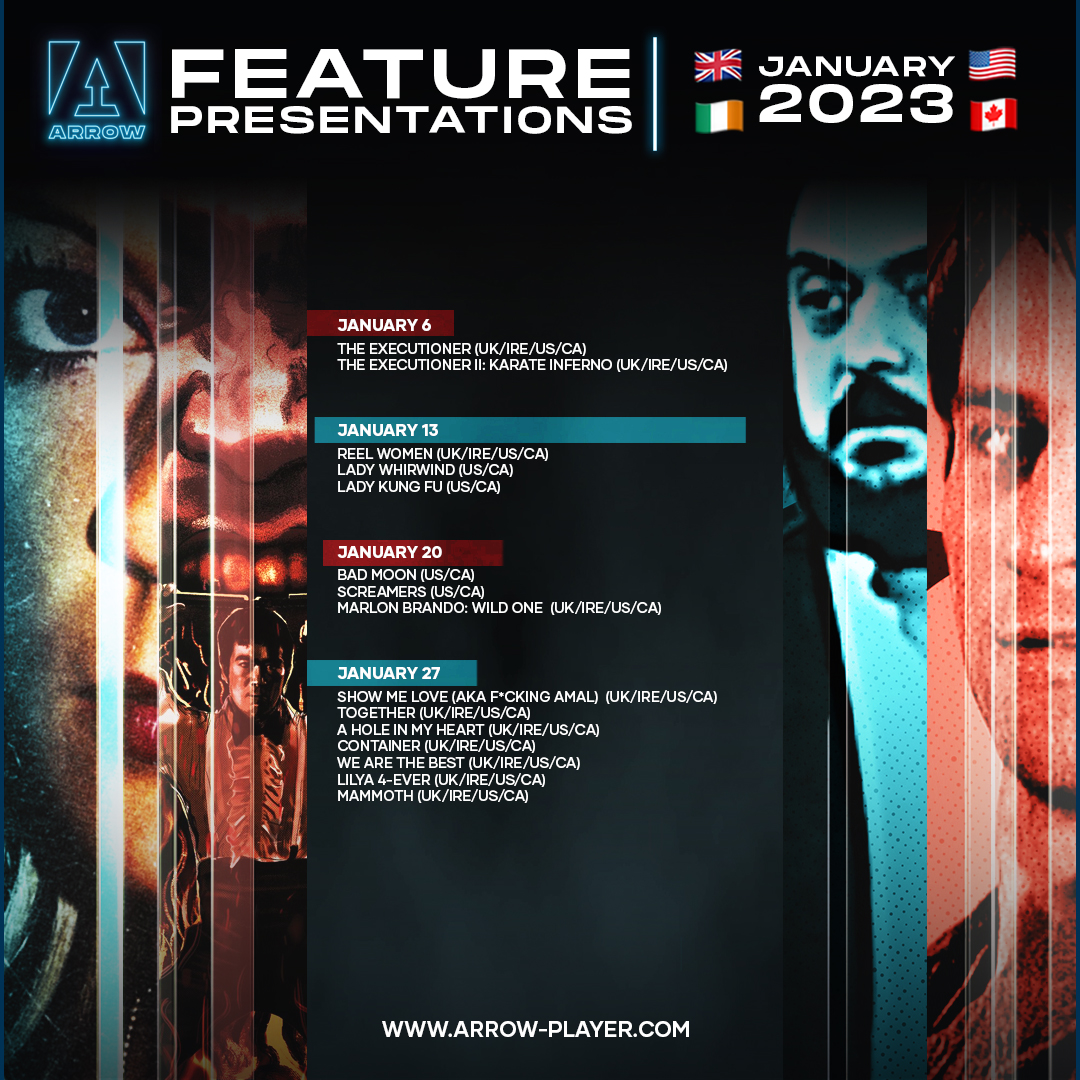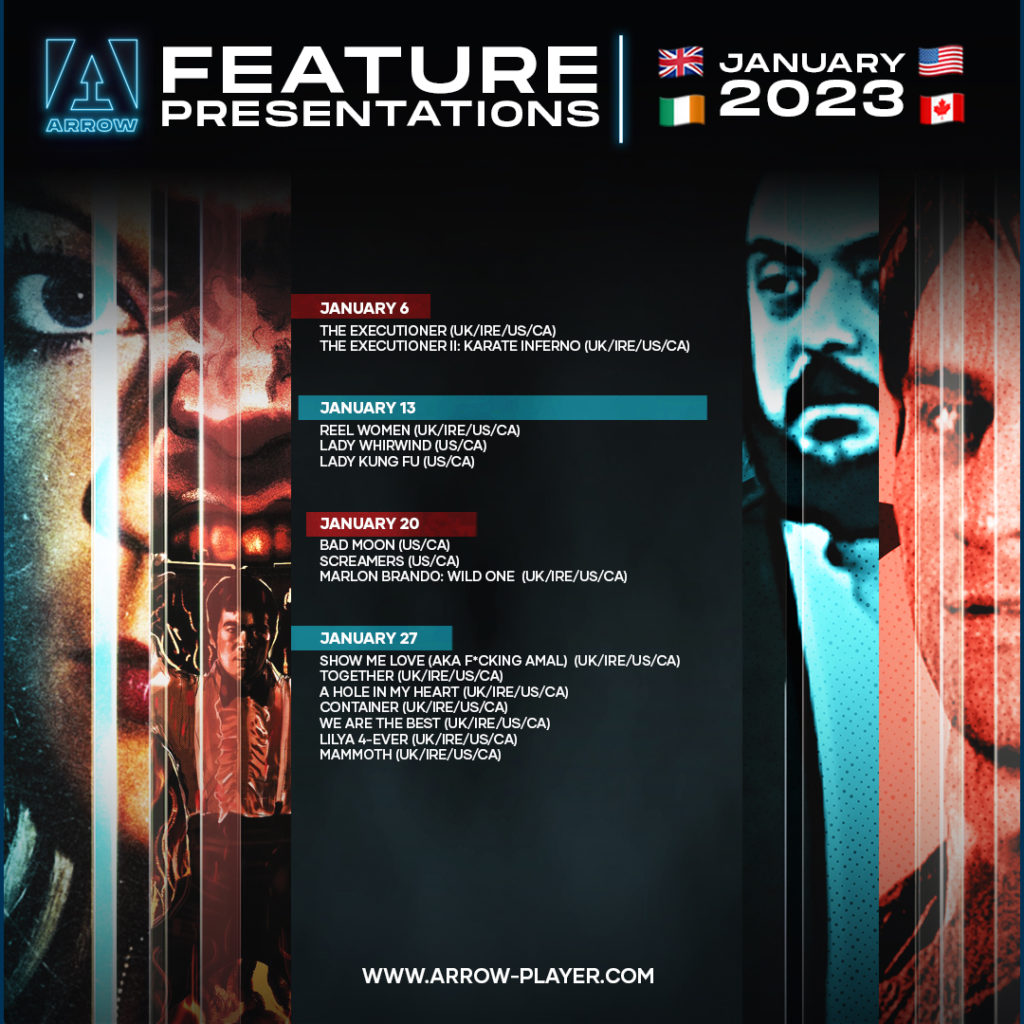 —
SCREAMBOX January Streaming Line-Up Announced: "Screambox has revealed the new films that will be joining the horror streaming service in December, including exclusive titles In Dreams, Signal 100, Dawning, and Just Desserts: The Making of Creepshow as well as a collection of Severin Films cult classics.
Just Desserts: The Making of Creepshow becomes a Screambox exclusive on January 13. The feature-length documentary offers a retrospective look at George A. Romero and Stephen King's Creepshow through interviews with Romero, Tom Savini, Adrienne Barbeau, Ed Harris, Tom Atkins, Bernie Wrightson, and more.
January 13 also sees the arrival of 24 cult classics restored by Severin Films, including Jess Franco's Count Dracula starring Christopher Lee, Lucio Fulci's Zombie 3, the Dario Argento-produced Wax Mask, horror anthology The Uncanny starring Peter Cushing and Donald Pleasence, Australian hidden gem Next of Kin, creature feature Killer Crocodile, the Soviet Union's first horror film Viy, and Italian horror documentary All the Colors of Giallo.
Psychological thriller In Dreams streams exclusively on Screambox on January 17. Bianca Brigitte Van Damme — daughter of Jean-Claude Van Damme — stars as a woman who experiences a psychological spiral in the wake of her grandfather's murder. Shalim Ortiz (Heroes) and Vannessa Vasque (East Los High) co-star.
Screambox original Signal 100 drops on January 24. Based on the manga by Shigure Kondô, the Japanese horror film finds a group of high school students being hypnotized to play a game where an unknown command causes them to take their own lives.
Festival favorite Dawning joins Screambox exclusively on January 31. A therapist returns to her childhood home to confront her family's dark past in the Korean chiller. It marks the feature directorial debut of Young Min Kim, whose visual effects resume includes The Batman, Spider-Man: No Way Home, and Midsommar.
These titles will join Screambox's growing library of unique horror content, including Terrifier 2, Pennywise: The Story of IT, Masters of Horror, 13 Nights of Elvira, American Mary, History of the Occult, and Toxic Crusaders.
Start screaming now with Screambox on iOS, Android, Prime Video, Roku, YouTube TV, Samsung, Comcast, Cox, and Screambox.com."
—
ON THE TRAIL OF BIGFOOT: LAST FRONTIER: "Wadsworth, OH–Small Town Monsters heads to the frozen vistas of the 49th state with On the Trail of Bigfoot: Last Frontier. The first 2023 Small Town Monsters docudrama features in-depth interviews with locals and a heavy focus on the Indigenous peoples who first called the land home. Focusing on evidence and encounters with the legendary Sasquatch, On the Trail of Bigfoot: Last Frontier aims to give audiences the most cohesive look at Alaskan Sasquatch lore.
On the Trail of Bigfoot: Last Frontier debuts on major streaming platforms on January 17, 2023, from 1091 Pictures, including iTunes, Amazon Prime Video, Vudu and FandangoNOW.
On the Trail of Bigfoot: Last Frontier was shot over several months in the Alaskan wilderness, concurrently with upcoming Small Town Monsters projects Land of the Missing and Bigfoot: Beyond the Trail: Alaskan Coastal Sasquatch, to be released later in 2023. Each production will take a different look at the lore of the monsters believed to be living in the snow, offering the most comprehensive view of the evidence.
Audio evidence presented includes eerie recordings which seem to capture a baby crying deep in the remote, coastal regions of Alaska, along with numerous howls, whoops, tree knocks, and more. The baby-crying audio is particularly unnerving as it has been referenced numerous times in Alaskan native lore as being a tactic employed by Bigfoot to lure its victims into the woods."
Available on Cable VOD and Digital HD From 1091 Pictures Beginning January 17, 2023