Fashion
Julia Roberts, George Clooney Match in Suits on Press Tour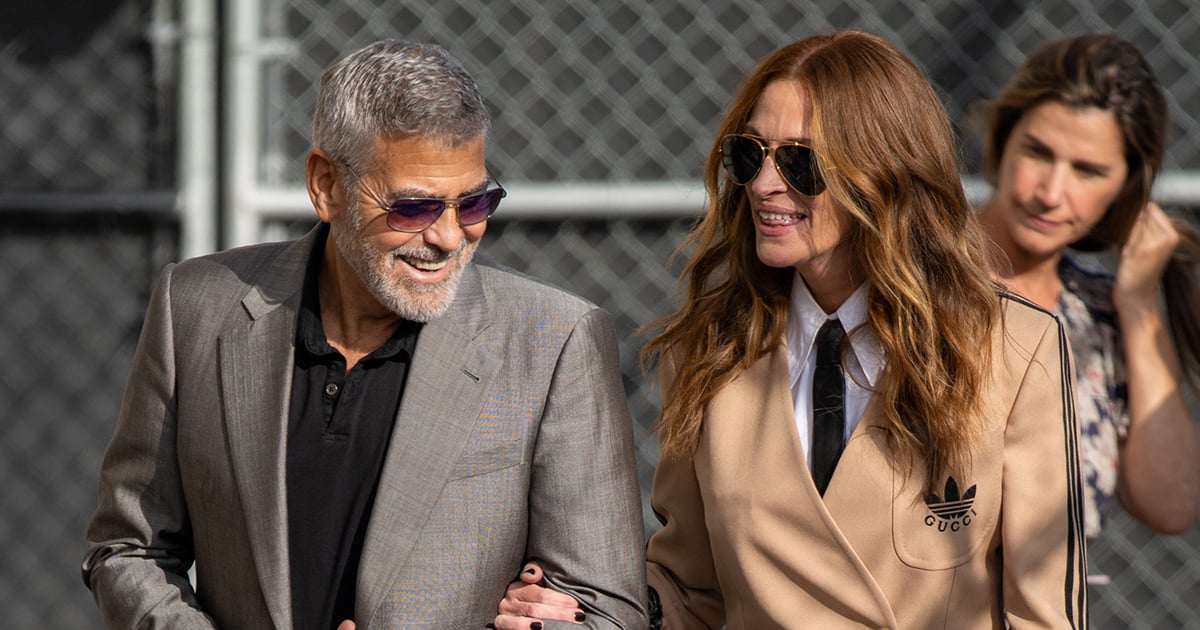 It's been a busy press circuit for Julia Roberts and George Clooney, longtime friends who are starring in the upcoming "Ticket to Paradise" film. In between their hilariously sweet interviews and genuine laughs, they've managed to give fans a delightful style moment. On Oct. 13, Roberts and Clooney looked chic as ever in coordinated suits outside "Jimmy Kimmel Live."
Working with stylist Elizabeth Stewart, Roberts, who is somewhat of a suit connoisseur, donned a menswear-inspired ensemble from Gucci x Adidas's fall 2022 collaboration. It included a double-breasted tan jacket with black fur-trimmed cuffs and the combined logo emblazoned on the breast pocket, and matching trousers with Adidas's signature three stripes. She wore a crisp white button-down and skinny black tie underneath, finishing the structured look with classic Ray Ban sunglasses and pointed-toe pumps.
In contrast, Clooney dressed in a sleek gray suit, which he paired with a black shirt and tinted shades. Though the pair, who play a divorced couple in their new movie, have previously worn complementary outfits, this is the first time they've seemed to fully coordinate.
While Clooney has mostly sported smart tuxedos throughout their press run, Roberts has experimented with a number of styles while promoting "Ticket to Paradise," even maintaining her love of suits. For her late-night appearance prior, Roberts chose another unique menswear-inspired look, a Thom Browne romper, and at another interview, a bright pink set from Alex Perry that screamed Barbiecore.
See more photos from their press day ahead.