Fashion
Everything You Need to Know About Google's New Pixel Watch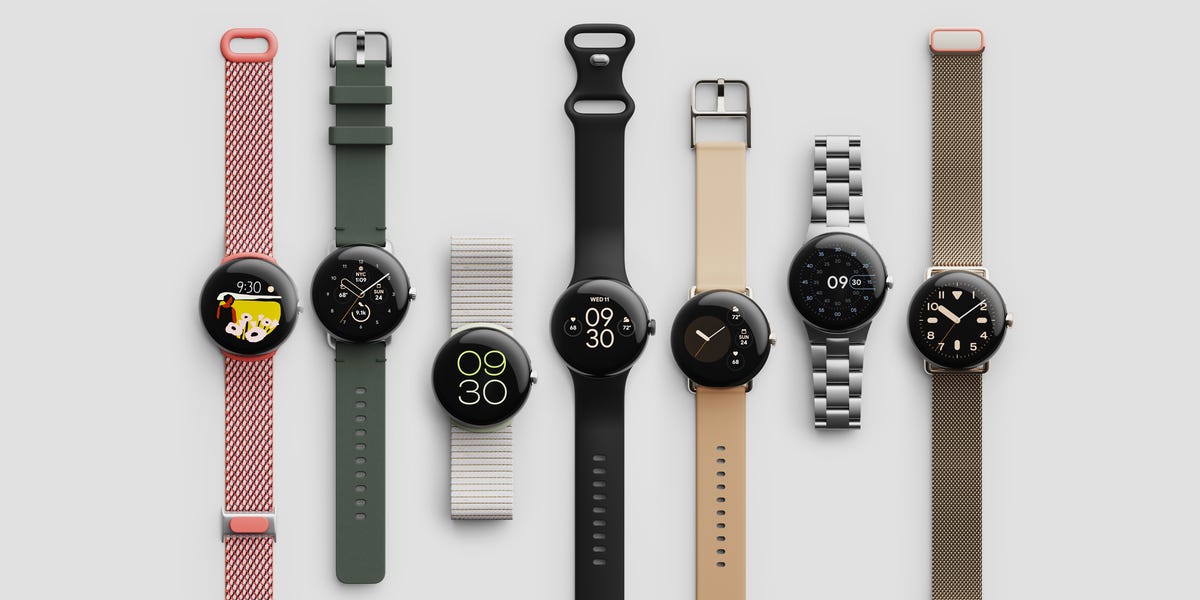 Google just quietly launched its first-ever smartwatch—and the sleek circular design just might make it the chicest piece of wearable tech on the market. Last night at the Made by Google event in Brooklyn's Williamsburg, the tech giant unveiled the new Pixel Watch. Despite sunny weather outside, turns out, the watch face was inspired by droplets of water, and how they land just so, in a perfect dome shape.
"We wanted to recreate a water droplet to make a seamless look that combines the traditional analog idea of the circle and shape of time with this modern idea of the fluidity in the shape, which also communicates the fluidity of technology in our lives," says Isabelle Olsson, head of industrial design for Google's Home and Wearable products. For Olsson and her team, function follows form and not the other way around. That's why, for example, as a wearer, you'll find that the bezel-less design won't catch on your sleeve like most traditional watches might.
For the bands, Olsson looked to dozens of objects for inspiration, from traditional watches and jewelry to handbags, wallets, and even sneakers. "The knit bands, made of recycled plastic, are actually inspired by 3D-knitted sneakers," she says. "Sneakers are such a good analogy of what this product needs to do: it needs to be comfortable, stylish, and durable." Durability in particular was heavily considered when designing the Pixel Watch—it's water-resistant and scratch-resistant, and features custom-made 3D Gorilla Glass (a special brand of chemically strengthened glass).
And similar to a pair of sneakers, the Pixel Watch can be dressed up or down depending on the band you choose. Options range in style from woven, stretch (so comfortable you can sleep in it), leather, and metal (coming later this spring), with a plethora of color options, so you can mix and match to your heart's content.
"We wanted to make sure that there was a band for everyone," Olsson adds. "We also wanted to make sure that the colors we offer really stand the test of time." To achieve this, Olsson tested the shades out by using her own fingernails as paint chips. "I'd paint my nails in a color that we were excited about, then wear it for two weeks and look at it in different lighting conditions to see if I grew tired of it." (While explaining this, Olsson held up her own woven band in a lemongrass hue to her matching manicure.)
But let's be clear: The Pixel Watch is not just a cute accessory—its tech specs are even more impressive than its design. Wear OS, Google's Android operating system, includes access to Emergency SOS, Google Wallet, Gmail, and Calendar notifications. Plus, à la Siri, you can talk to your Google Pixel Watch to send texts, ask questions, and set reminders, allowing you to get ample things done without physically handling your phone. Because hands- free is indeed the way to be.
As an added bonus, the watch also doubles as a Fitbit, with a step counter, heart rate monitor, and sleep tracker that can send the user a "Sleep Score" each morning (essentially a digest of all your sleep habits, good and bad).
The Google Pixel Watch starts at $349.99 and is available for pre-order now at store.google.com.